Wales star Gareth Bale rejects diving claims against Scotland
Gareth Bale has rejected claims that he dived to win a penalty in Wales' win over Scotland on Friday night.
Last Updated: 15/10/12 8:22am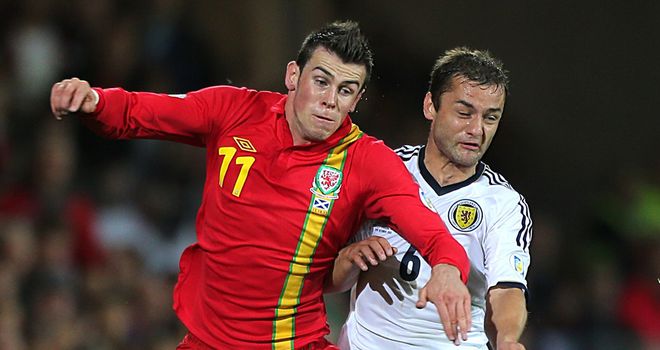 Tottenham ace Bale was accused of diving in winning the penalty which led to him scoring the equaliser from the penalty spot in Cardiff before going on to score the winner.
Scotland forward Shaun Maloney jumped to the defence of Bale by admitting he did make contact with the Welshman inside the box and Bale has claimed it was a clear penalty and a simple decision for the referee.
"Somebody clipped me and I went over," said Bale. "He (Maloney) clipped my leg and I couldn't stay on my feet.
"It was a simple penalty and it was nice to get up and slot it away.
"I've missed a few when I've taken them in the past, but I fancied it. I was confident and thankfully I did step up."
Wales team-mate Joe Allen also felt Bale was clipped by Maloney and that the official made the right call with the award of the penalty.
"My instinct was that it was a penalty," noted Allen. "It was a difficult decision, but it looked like his ankle was clipped."
World-class
Meanwhile, Wales boss Chris Coleman believes Bale is good enough to play for either Barcelona or Real Madrid and that the winger will go down as one of the all-time greats for his country.
Bale has been continually linked with a move to either Real or Barcelona after impressing for Spurs over the last couple of years and Coleman believes the 23-year-old would be unfazed by playing for any of the top clubs in the world.
"Gareth wouldn't be fazed by moving to Real Madrid, Barcelona or any other top club in the world," said Coleman.
"It's not easy moving to another country and culture, but he has the character to handle that. He's young and has it all in front of him."
Coleman feels Bale is ready to join the likes of Ryan Giggs and Ian Rush by becoming one of Wales' greatest ever players.
"In this country we talk about the great John Charles, Ryan Giggs, Ian Rush. Southall was the best goalkeeper in the world," added Coleman.
"There's no doubt in my mind Gareth will be up there with those guys.
"He's only 23. It's not a case of 'can he up there with those guys?' He will be."