Chris Coleman says poor conditions in Croatia failed to work in Wales' favour
Wales boss Chris Coleman admits he had hoped the poor conditions in Croatia on Tuesday night would benefit his side.
Last Updated: 17/10/12 9:40pm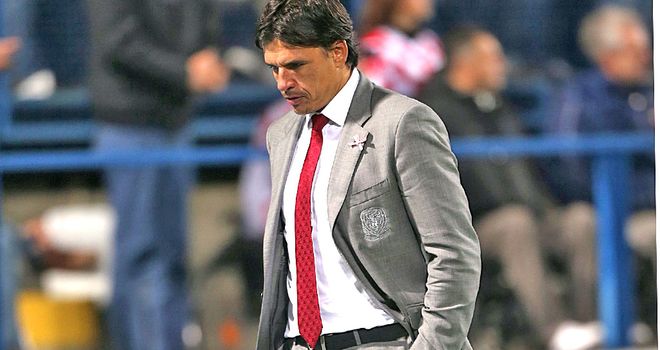 In the end, quite the opposite proved the case as Wales slipped to a 2-0 defeat, with the hosts' dynamic passing game being in no way hampered by a boggy Gradski Stadium pitch and the surface only really making a significant impact by offering them a helping hand for their opening goal.
That came in the 27th minute when Wales captain Ashley Williams' attempted pass-back appeared to be slowed down by a muddy patch.
Dragons goalkeeper Lewis Price came to try to clear the ball, but could only strike it against the onrushing Mario Mandzukic, who then calmly guided it into the net.
Croatia had already been launching attack after attack and continued to do so, with Eduardo's close-range finish wrapping up a well-deserved win in the 58th minute.
Heavy rain led to England's World Cup qualifier in Poland on Tuesday being postponed, and asked about the conditions in Osijek, Coleman said: "We had been a bit worried because it was forecast as rain and we thought if it did rain, the game could have been in doubt.
"Up at the end that we made the mistake the pitch was really heavy.
"But to be fair to them, it didn't bother them (Croatia) at all - they still played their football.
"I thought maybe it would have helped us more, but in the end (it did) not."
Error
While pointing out the surface had played a role in the build-up to the Mandzukic goal, Coleman acknowledged his team had ultimately been guilty of a defensive error, and centre-back Williams took a similar view.
"The conditions played a part in the back-pass; the pitch was ridiculously bad," said Williams.
"But I probably should have hooked it out, knowing what it was like."
Compared to Wales' 6-1 humiliation by Serbia last month, Coleman believes there were positives to take from Tuesday's defeat.
He told Sky Sports: "Last night, away from home, we took a lot more out of it than we did in the last away game obviously, where we were humiliated against Serbia.
"I know last night we didn't get the result and we made one or two mistakes but overall I thought the players gave it what they had really.
"Against a good team like Croatia, especially away from home, you've got to work extremely hard just to stay in the game. There's long periods where you don't have possession of the ball and you've got to make sure you're in the right place on the pitch, the right position. We did that for as long as we could.
"I was pleased with the players because they did what they could, basically. They were beaten by a very good team."