FA will bid to host Euro 2020 final after UEFA announces multi-host plans
The FA has confirmed it will bid to host the Euro 2020 final as part of the multi-host tournament.
By Rebecca Stephenson (follow @1rebs)
Last Updated: 06/12/12 9:42pm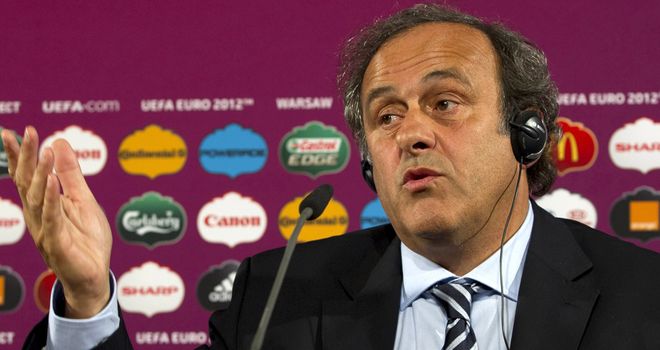 Twenty-four teams will contest the trophy in up to 13 cities and the Home Nations have been quick to register their interest in being amongst them.
The FA will bid for the final and semi-finals in London, with the final at Wembley. Wales and Scotland have also confirmed they will bid for matches and the Republic of Ireland are expected to follow suit.
FA chairman David Bernstein said: "Clearly Wembley is incredibly highly thought of by UEFA and it is something we will push for.
"UEFA want to hold the semi-finals and the final on the same ground, or in the same city and I think we would be on their shortlist - but there would be some strong competition.
"The public want it and we'd want it and it would be wonderful to have it here."
Meanwhile, Scottish FA chief executive Stewart Regan has indicated his governing body could put together a rival bid for the showpiece, but admitted may have to settle for the early rounds.
He said: ""We would be interested in the final but we first have to find out UEFA's minimum criteria for capacity - if they are looking for stadiums with greater capacity then of course we would be interested in hosting group matches."
Wales hope to add the Millennium Stadium to the list, seeing their location as an advantage in a possible British/Irish hub.
Jonathan Ford, chief executive of the Football Association of Wales, said: "This rules us very much in. We now have to see how this can work on a logistical basis.
"If we are part of a hub including Glasgow, Dublin and an English city this could be very exciting."
Ford also believes Wembley is the current favourite for the final.
He added: "I think they will take that to one of the major, major stadiums and Wembley is today's first choice but 2020 is a long time away."
The bidding process for the host cities will start in March and the final decisions will be made in the spring of 2014.
Don't miss any live and exclusive football coverage this festive season. Click here to visit Sky Sports' Festive Calendar