Frustrated Chris Coleman hints that his long-term future may not lie with Wales
Chris Coleman has hinted that his long-term future may not lie with Wales after admitting his frustrations in the job.
Last Updated: 28/03/13 8:07am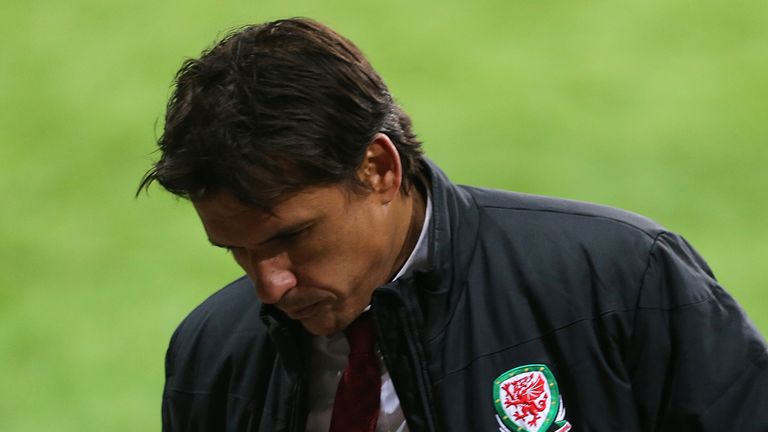 Coleman saw his side's 2014 World Cup hopes all-but ended by a 2-1 defeat to Croatia in Swansea, leaving them 10 points adrift of the Group A summit with just 12 points up for grabs.
After a testing start in the role after succeeding the late Gary Speed in difficult circumstances, Coleman has found his feet and there have been encouraging signs since September's humiliating 6-1 defeat in Serbia.
The Football Association of Wales have been pleased with the improvement in fortunes, and the squad are also keen for him to be retained beyond the end of his existing contract, which runs through to the World Cup.
Coleman has previously stated he would like to remain in the role as he looks to help Wales secure a healthy seeding for the Euro 2016 qualification process.
But when asked if he felt he would be in charge of that campaign, he was not so committed.
He said: "I have no idea if I will be in charge, but I have never once said I had plans to not be here.
"I think we can do something exciting with the players we have, but I still get frustrated because for the next four months there is no game and I struggle with that.
"I will be watching some football at the weekend but I will not be involved.
"I have loved the last 10 days in camp with the players, but now there is nothing for three or four months and I am not sure I will ever get to grips with that to be honest."
He added: "I am not saying I want to walk out, I have not thought about it. The only thing to think about now is that we won't qualify for the World Cup, but can we finish third?
"We have four games left in this campaign and I will speak with the powers-that-be on what they have planned and what I have planned and we will see, but I have not thought about it."
Wales captain Ashley Williams believes it would be "stupid" not to retain Coleman's services.
Williams said: "We definitely want him to stay, obviously I've been saying for a long time that he is doing a great job.
"He came in and took the job in unbelievably tough circumstances, but I think you can see it's getting back to where it was under Gary Speed.
"The last two camps with him have been brilliant, I think that's really pleasing and it would be stupid to change the manager, no one would say they want to see a change."