Chris Coleman focused on Gareth Bale's international future
Chris Coleman is more concerned about getting Gareth Bale in a Wales jersey than speculation regarding his future.
Last Updated: 07/08/13 1:44pm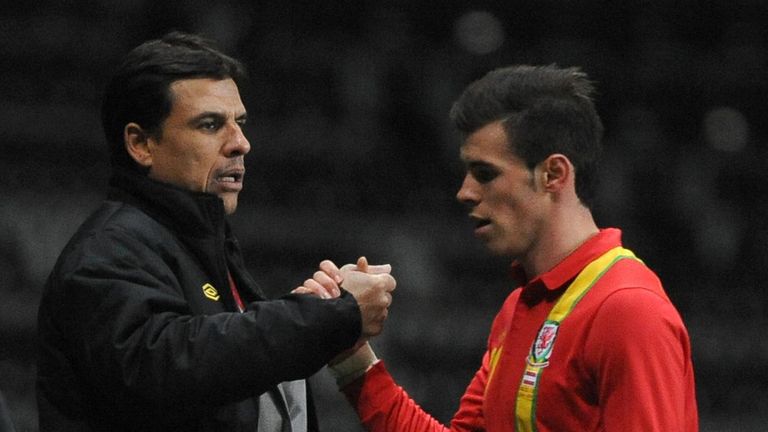 Tottenham Hotspur forward Bale has been included in Coleman's 23-man squad for an international friendly date with Republic of Ireland next Wednesday.
He will link up with his international colleagues as rumours regarding a potential record-breaking switch to Real Madrid continue to rage.
Coleman insists any decisions taken at club level hold little interest to him, with it important for him to get Bale - who has been nursing a knock - fit and at the centre of his plans heading forward.
On the likelihood of Bale being involved against Ireland, Coleman told Sky Sports News: "We know he hasn't done a lot of pre-season, but there's a lot going on with the on-off transfer - is he, is he not going to go?
"As a nation we pick our strongest squad and obviously Gareth is in that. Until we are told otherwise, we are looking forward to seeing Gareth next week when we all meet up in Cardiff prior to the Ireland game. Until we're told otherwise, we expect to see Gareth."
On the reports suggesting Bale could soon be involved in a mega-money move to Spain, Coleman added: "I don't really get involved in that. If a player is going to get a transfer, that's nothing to do with me really. Albeit, if he does go, he will probably be the most expensive player in history.
"As far as I'm concerned, and as far as we're concerned as a nation, Gareth's a Welsh player and he's an important Welsh player whether he is playing his football in England, Spain or wherever.
"I suppose you could look at it and think that if he plays in Spain, physically he will probably be in better condition when he comes and plays the international games because the Premier League is very, very demanding. But it will be up to Gareth and Tottenham Hotspur whether he goes.
"All I know is that he is 24 years old, a super player who is only getting better and will get better whether he stays or goes. But my concern is Wales. We are obviously a better team when he is with us and hopefully that will be the same case when we face the Republic of Ireland."