Wales boss Chris Coleman praises the form of Arsenal midfielder Aaron Ramsey
Wales manager Chris Coleman has praised the current form of midfielder Aaron Ramsey ahead of their World Cup qualifiers.
Last Updated: 05/09/13 9:48am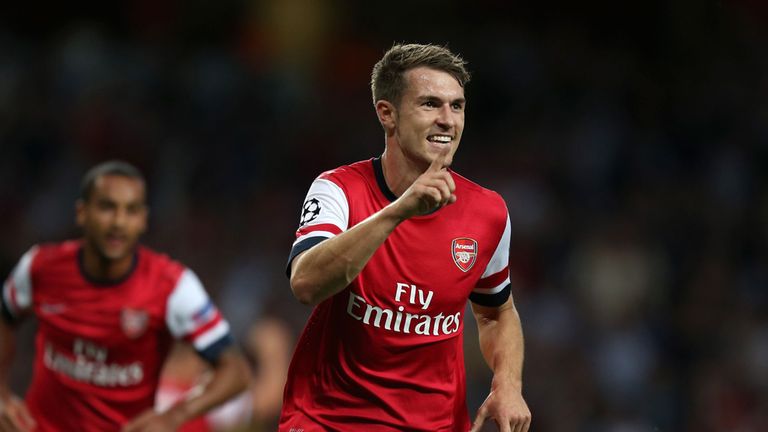 The 22-year old has impressed during the Gunners' opening five games of the season, finding the net three times and claiming the Man of the Match award twice despite a frustrating previous campaign.
Gareth Bale's move to Real Madrid has dominated talk in the lead up to Wales' Group A clashes against Macedonia and Serbia, but Coleman believes that Ramsey can be the star of the show if recent displays are anything to go by.
"Aaron has been brilliant. He is showing now what we all thought he was capable of with his performances. He's been superb for Arsenal this season," he said.
"All that has happened is he has taken time and games to get stronger and get that fluidity back in his play.
"He's got a spring in his step and is confident. He's doing things at both ends of the pitch. He's defending well, positionally he is much better and he's linking the play up in the last third.
"This is his best form and he's playing his best football. Even before he had the injury. This is the best we've seen from him."
Ramsey faces increased competition for places at Arsenal following the arrival of Mesut Ozil from Real Madrid, but Coleman thinks the midfielder has nothing to fear providing he maintains his levels of performance.
"All Aaron has to do is keep doing what he has been doing. Ozil is a great player, but if Aaron keeps playing like he is, then I don't think it will be Aaron Ramsey losing his place.
"I'm not the Arsenal manager and it's not up to me. It's up to Arsene Wenger and he's a quality manager. But if Aaron keeps doing what he has been doing then I can't see him losing his place."
Coleman also believes that a horrific leg break sustained against Stoke City in 2010 has impacted Ramsey's form in recent years, something he can relate to himself.
"I've had serious injuries myself as a player," said Coleman.
"People talk about the physical part, which is important as you have to get the agility, but mentally it is tough. It's hard.
"It's taken him time, but you have to look at him during pre-season and the start of the season and take your hat off to him and say he's got himself back in that position where he's playing the football we all thought he was capable of. He's looks fantastic."