Craig Bellamy will go into management when he has finished playing
Craig Bellamy admits this season could be his last as a player, but he has his sights firmly on staying in the game.
Last Updated: 09/09/13 11:49am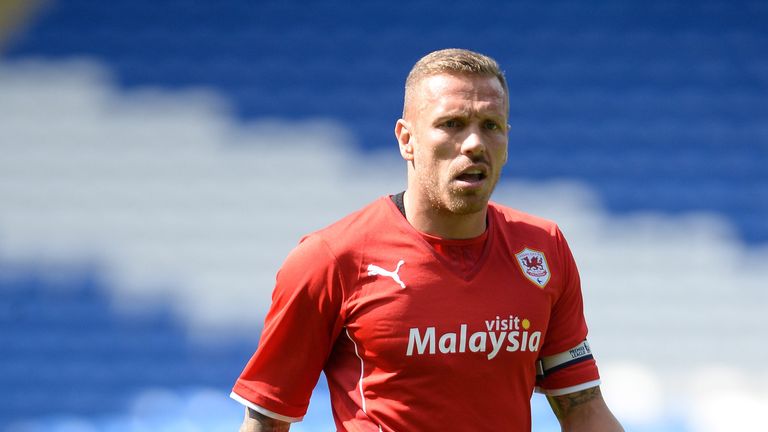 Bellamy, 34, won his 75th cap in Wales' 2-1 defeat to Macedonia and he has stated he would not walk away from the national side.
But he admits that he is highly unlikely to make Euro 2016 - so he sees little point in taking part in the qualifiers, which will begin next year.
"I know I said I would not retire from international football and I really want this group to succeed, but it's a two-year period to qualify and if I start (the campaign) then step aside, it is robbing someone else of two or four matches, of vital experience, and they would miss out as well," Bellamy said.
"That's the way I'm looking at it. I honestly think Wales have a great chance of doing something but I've thought about it really hard.
"It's difficult. I'm a single parent now and I'm having such a battle to see my kids on a daily basis. It's so hard.
"Then, being away for 10 days, I'm not the only dad who has to go through it, but if you have experienced it, then you would understand."
Mood change
He added: "My mood does change... I know I could change what I'm thinking.
"But the way I'm feeling now, it could be my last season in football.
"I have so much to look forward to after football. Life isn't just about football. The adventure starts when you finish and I'm looking forward to that.
"I've been playing at a professional level for 17, 18 years now and there's more to life. I love the game, don't get me wrong, I've cherished every moment of it."
However, even after he has hung his boots up - Bellamy confirmed that he would look to make the move into management, but he would be taking his time and taking in a number of different experiences first.
"I've got my A licence already, then I'm doing my pro-licence," he revealed.
"After that, I'm going to travel around the world - Spain, Argentina - and learn my craft. I don't just want to go in and mess about. When I go in, I'm going to be prepared and I'm going to stay in."