Where do Republic of Ireland, Wales and Scotland go from here?
Republic of Ireland, Scotland and Wales will not be in Brazil next summer, so what next? Who should replace Giovanni Trapattoni? Is Gordon Strachan on the right path? Should Chris Coleman stay in his job?
Last Updated: 16/10/13 10:16am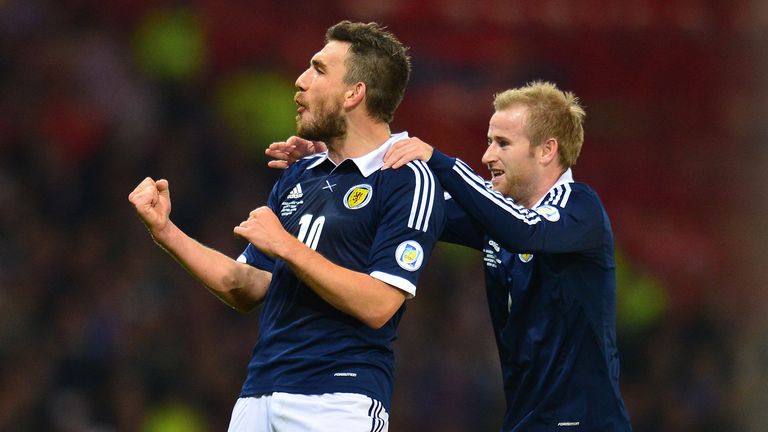 Niall Quinn on what type of manager Republic of Ireland need next
It was interesting to hear John O'Shea, who is one of the leaders of the dressing room I suppose, saying 'we want somebody who knows us'. Guys like Martin O'Neill, Mick McCarthy and Roy Keane will know all about them. Ruud Dokter is a Dutchman with great experience of world football and will have lots of names to throw into the hat and a lot depends on what the FAI are looking for here. Is it a manager who is going to link all the age groups together? Will it be a manager who, when he finishes his senior international, will then go and see the U21 game or the U18 game? Will he try and bring the same style of football through the system?
It's pretty much a wake-up call for Irish football in that we don't have young players coming through at the very, very top clubs. They are starting to come through at smaller clubs and that's beginning to show in performances and results for the first team. I would hope the thinking is this isn't just somebody to get us to the next tournament, who doesn't even bother to go and see his own senior players as Giovanni Trapattoni didn't do, but somebody who really links the whole footballing family. We want to see our teams doing well at all levels and we want to see young people coming through. That's the type of man that I hope gets the job.
I'm used to parents ringing me up and saying 'can you give me some help, my son is going to Liverpool, Man United or Arsenal' - but I'm not getting those calls any more. With the greatest respect they are going to clubs in the Championship or the Scottish First and Second Division. I think we have to maybe prepare our whole structure and set-up a little bit differently and do what a small nation like Switzerland did or look at how Belgium have managed to get all their players coming through. We must alter our thinking - and of course we have to fill the stadium again and get the passion back. O'Neill or McCarthy, who are heading the betting, would certainly do that.
Neil McCann on how Scotland have developed belief after a poor start to Group A
There's a bit of belief within the camp and a bit of confidence on the back of a couple of away wins and a good performance at Wembley against England. There was a real belief again - and that seems to be the buzzword with the squad at the minute - to go and get the first win at home of this campaign.
I just wish at the start of the campaign that they'd had the freedom and thrust to go and get results. I felt that in the early part of the campaign, certainly in the first few opening games, that there was almost a handbrake on at times to not get beat and start off nice and solid. I felt if we could have maybe grasped four points out of a possible six from the first two home games it would have set us off on a really good footing, but we were always going to be up against it to go away to Serbia, Macedonia and Belgium to try and get an away win. We went to Croatia and got a result, which is fantastic, and that leant itself massively to - again that word - the belief to do a number on them here.
I think at times we made Croatia look very ordinary and they are not an ordinary side. They are a top-class unit but we were worth the win tonight. We've lost Kenny Miller, who used to play that number nine role on his own so terrifically well and we wondered how we would replace him, but I think Stevie Naismith has proved that he can be the man up there to hold it in, link the play and grab us a goal.
Mark Bowen and Ian Rush on whether Wales should stand by their manager Chris Coleman
BOWEN: The Welsh FA will get their heads together and talk about how the campaign went. We did lose our way a bit mid-way through the group but finished strongly and just showed what we are capable off in the last two games - we won our home game and then got something away from home. It sets Wales up nicely for the next European campaign but begs the question what might have been.
It has been said many times before that we have got match-winners. We have got the likes of Gareth Bale to come back into the squad, the likes of Joe Allen as well. These young players can grow together and if we can get them all fit and well on the pitch together then you have a chance, Chris has not had that luxury. It's been a long and difficult campaign but if we are led to believe that Chris Coleman had two games to earn himself a new contract then I think he has done that with flying colours. A home victory against Macedonia and then to go out to Belgium and get something against a fantastic team bodes well for the future for Chris Coleman.
RUSH: At the end of the day are you going to get anyone better that Chris? He deserves his chance and he needs another two years to show what he can do. The draw was a massive boost - in the first half it was all Belgium, Belgium, Belgium and Wales looked really tired. But again when you have people like Aaron Ramsey and Gareth Bale in your side then you are always going to be able to do something. That is what Ramsey did tonight, he got a goal out of nothing. We have got a few young players coming through and hopefully we can really look to the future.