Premier League: Cardiff City star Craig Bellamy reveals Manchester United move came close twice
Craig Bellamy has revealed he was close to joining Manchester United on more than one occasion.
Last Updated: 23/11/13 2:10pm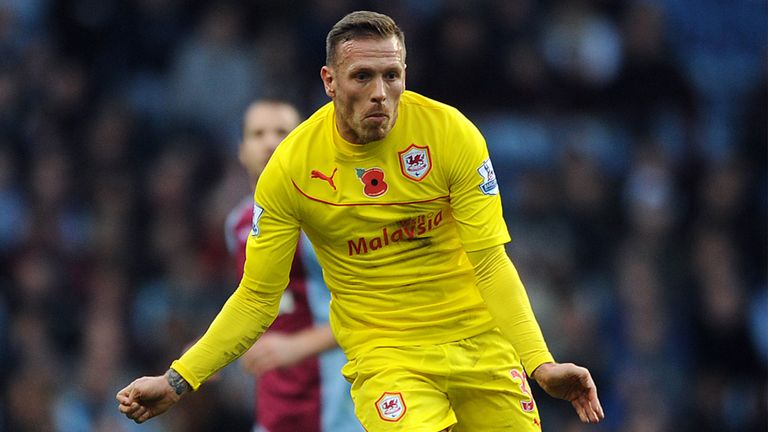 The 34-year-old told how Sir Alex Ferguson came knocking in 2002 and again eight years later as he attempted to acquire the services of the Wales striker.
Ferguson made enquiries to bring Bellamy to Old Trafford three years ago but encountered stumbling blocks in trying to make a capture from rivals Manchester City.
Although Bellamy was delighted to be linked with the Red Devils, he always knew switching allegiances within Manchester would be difficult.
"My adviser had a conversation with United in 2010, shortly before I came to Cardiff on loan," he told the Daily Mirror.
"It was great to feel wanted, and I would have loved to do it, but it was never going to be allowed.
"After Carlos Tevez had moved the opposite direction the year before, I didn't expect anything to come of it."
Offers
Bellamy admits the history of Ferguson tracking him down stretched back much further, but while being flattered by the approach, the Welshman was content to remain at St James' Park.
"Actually, there was a link with Sir Alex as far back as 2002, when my representatives went to see him at United's training ground, with a view to a move going ahead," he added.
"But Newcastle had just qualified for the Champions League, I loved playing for Sir Bobby Robson and had just been offered a new contract there.
"To be honest, I used an inquiry from United to hold out for a better deal."
Manchester United were not the only party interesting signing Bellamy, with then Everton manager David Moyes opening discussions with the Wales international.
Bellamy will come up against Moyes on Sunday when he brings Manchester United to Cardiff and admits he soon warmed to the manager during earlier meetings.
Wanted
"When I was leaving Newcastle, David Moyes came to see me and tried to sign me for Everton," he said.
"He made me feel the most wanted man on earth, saying I would fit in perfectly with the way they played and it became clear Everton was a really good option for me.
"A couple of weeks later, I travelled to Preston to meet him at his house, still intent on joining, but something had changed."
Bellamy noticed a switch of emphasis during the second meeting with the now United manager and admits that was the moment he got cold feet.
"He had this list of rules, saying I was to do this and I had to do that," he added. "He was saying 'If I do sign you, this is what I expect'.
"Then Bill Kenwright, the Everton chairman, was on the phone, saying the medical had been arranged, but I said to my adviser, 'This doesn't feel right' and we called it off."