Chris Coleman says Aaron Ramsey 'on same level' as Gareth Bale
Wales manager Chris Coleman says Aaron Ramsey's form puts the midfielder on the same level as Gareth Bale.
Last Updated: 07/12/13 11:20pm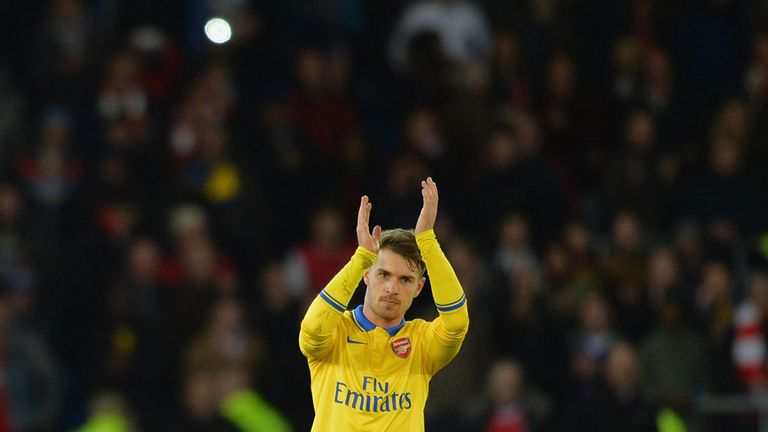 Bale, the world's most expensive player after his move to Real Madrid from Spurs in the summer, has long been viewed as Wales' top player.
He scored four of Wales' nine goals in their unsuccessful World Cup qualifying campaign.
But Ramsey has started the season in stunning form, scoring 15 goals for club and country and driving an Arsenal midfield including players of the calibre of Mesut Ozil, Jack Wilshere and Mikel Arteta.
Coleman said: "When you see what he is doing at the minute then why would you not say he is at a similar level (to Bale)?
"What he's doing at the minute is enjoying his football. He's found his confidence again. He's always had the ability, he just needed to get the confidence back and he's got that.
"You can't be doing what he is doing without that. And he's doing it in every game. If he's not scoring, he looks like scoring. He's involved in everything. Rambo looks brilliant at the minute."
Coleman also admitted Bale had proved him wrong by already settling into his best form in Spain despite not having a pre-season.
But Coleman also felt some of the criticism that came Bale's way early in his time at the Bernabeu would not necessarily have been aimed at a player from a bigger country.
"He's proved everyone wrong again, including me. I just thought any normal player who misses pre-season then it would take six months to get back and find your rhythm," he said.
"A month ago after El Clasico he was getting criticised. Now a month on with more games we are seeing his ability.
"He is proving he is a world-class player. If he was English or Spanish and producing those performances and then getting the move, I don't think much would have been said.
"But, because he's Welsh and from a small footballing country, people have gone, 'Is he worth it?'
"Is anyone worth that money at the end of the day? But that is what someone has paid. It's not Gareth's fault.
"But if we look at players all around the world and see what they can and can't do, there's not many that can do what Gareth does when he is at his best and he's finding that again.
"He's playing regularly and he looks fantastic."