Chris Coleman pleased with Wales qualifying group for 2016 European Championship
Chris Coleman is pleased with Wales' 2016 European Championship qualifying group but says qualification is still tough.
Last Updated: 23/02/14 4:32pm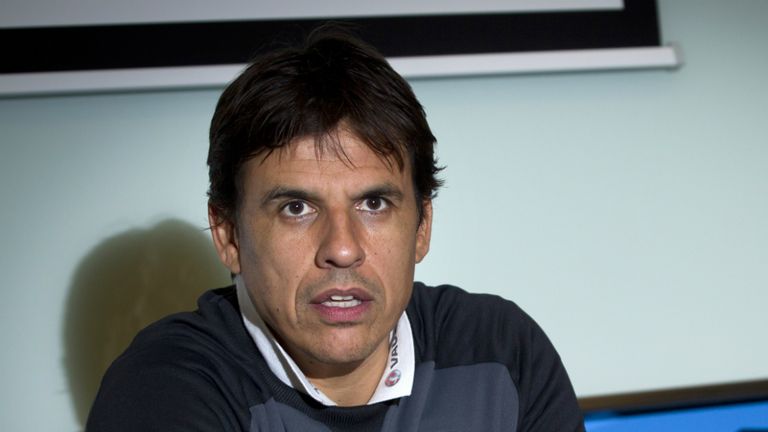 Wales have been drawn in Group B for the tournament which will be held in France, alongside Bosnia-Herzegovina, Belgium, Israel, Cyprus and Andorra.
Coleman's side have the opportunity to get off to a good start after being drawn away to play Andorra in their first qualifying fixture in September. The following month sees Wales play Bosnia and Cyprus at home before they travel to Belgium in November. Their penultimate group fixture sees them travel to Bosnia before rounding off their campaign at home to Andorra.
The newly-expanded format sees 24 teams qualify for the tournament in 2016. As a result, teams who finish third in their qualifying groups have the opportunity to progress via a play-off and Coleman believes this will give the home nations and Republic of Ireland a boost.
"There are no mugs in the group, there are no easy games but looking at it we've got to say we have a chance (of qualifying)," Coleman told Sky Sports News.
"If we finish above Israel then we've got a great chance of getting that third spot, but that's not to say we're going into it targeting third we've got to win as many games as we can because you never know.
"With this new 24-team format more teams can qualify so there is a little bit of excitement and anticipation in there. Everybody is wondering what is going to happen.
"For teams like Wales, Scotland, Ireland and Northern Ireland - it gives a little bit more of a chance to qualify for a major tournament.
"Obviously the format that was there before had made it very difficult for us but now with the extra teams. Who knows? It's up for grabs."
There is also a new format in place for the qualification fixtures which means countries now face the prospect of playing on Saturday and Tuesday.
Coleman believes this will place greater strain on players representing their countries and is likely to be unpopular with club managers.
"If you're a club manager - and I've been a club manager - then you're not going to like that because obviously there are more demands on the players" he said.
"It is more demanding on the players and if you are playing in different time zones on Saturday and then Tuesday then it is not easy."
Tuesday 9 Sept: (a) Andorra
Friday 10 Oct: (h) Bosnia-Herzegovina
Monday 13 Oct: (h) Cyprus
Sunday 16 Nov: (a) Wales
Saturday 28 Mar: (a) Israel
Friday 12 June: (h) Belgium
Thursday 3 Sept: (a) Cyprus
Sunday 6 Sept: (h) Israel
Saturday 10 Oct: (a) Wales
Tuesday 13 Oct: (h) Andorra