Michael O'Neill is already looking ahead to Northern Ireland's next qualifier
Michael O'Neill says Northern Ireland's draw in Portugal will only mean something if they can win their next qualifier.
Last Updated: 17/10/12 7:16pm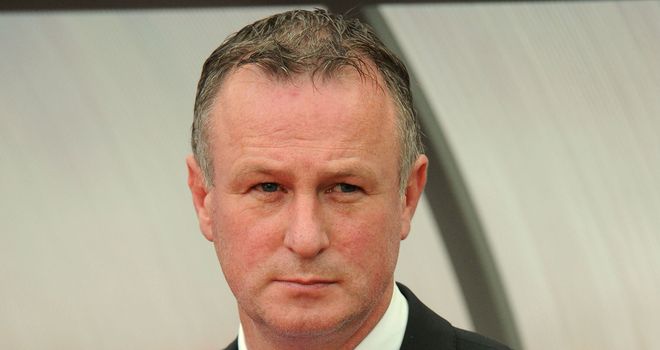 Portugal were hoping for a comfortable win to mark Cristiano Ronaldo's 100th cap, but were instead made to fight for a 1-1 draw at Porto's Dragao Stadium.
Niall McGinn's 30th-minute effort set up the prospect of a giantkilling act to rival the famous wins over Spain and England under Lawrie Sanchez, only for Helder Postiga to equalise with little more than 10 minutes left.
O'Neill took plenty of positives from the draw after being forced to share the spoils with Luxembourg last time out in Group F, but is keen to see Northern Ireland push on.
He told Sky Sports: "Obviously when you get results people tend to maybe overemphasise progress at times.
"We came off a disappointing result against Luxembourg, a game we clearly should have won and lost in unfortunate circumstances to be honest.
"Last night was a nice pick up. We have a squad which is a nice blend of experience and youth and the younger players are learning international football and trying to establish themselves at their clubs in many aspects as well, so it was a great boost for us.
"But realistically we have to look at the next game which is Azerbaijan at home and last night's performance only really means something if we can pick up three points against Azerbaijan."
Proud
O'Neill feels the commitment, passion and unity that underpinned Tuesday's draw suggests there will be more enjoyable results in the future.
"This is a team that is in its infancy in many ways, it's a transitional period for us, so to see them play with that spirit and discipline makes me immensely proud," said O'Neill.
"This is a group who want to learn and progress and have nights like this, to perform for Northern Ireland and make people proud of them again."
The Luxembourg draw raised questions about the team's ability to close out results, but O'Neill feels they provided a perfect answer on this occasion.
"We said before the game that the most important thing was not to let anyone question their character," he said.
"They certainly did that from one to 11, and there are also lads who didn't get involved in the match who have worked hard all week too.
"It was a huge success for us and hopefully a step in the right direction."