Northern Ireland's World Cup qualifier against Russia called off again
Northern Ireland's World Cup qualifier against Russia was the most high-profile casualty of Saturday's bad weather.
Last Updated: 23/03/13 11:49pm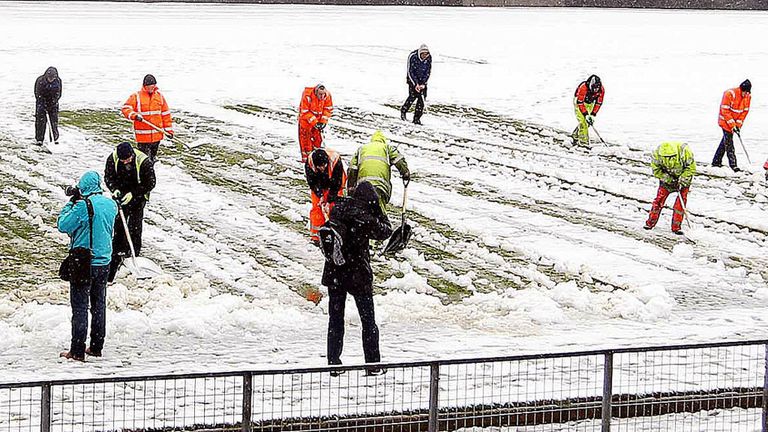 Fifteen league games in England and Scotland fell foul of the freezing weather around the country on Saturday, while the Windsor Park qualifier was postponed for the second time in as many days.
The Northern Ireland game had been rescheduled for 3pm on Saturday following Friday's postponement but further snow and plunging temperatures meant the Windsor Park pitch was still unplayable.
There were also concerns after spectator safety and with more snow forecast, the decision was taken to postpone the fixture after a safety meeting involving match officials and stadium staff.
It is unclear when the Group F clash will now take place, with Russia due to play Brazil in a friendly in London on Monday evening, but a date in June has been mooted.
Irish Football Association (IFA) head of communications Geoff Wilson said: "We are very disappointed the game has had to be postponed again and every effort was made to ensure the game went ahead today.
"Unfortunately that has not been possible. When the snow was lifted it became apparent that cold temperatures had led to ice forming on the pitch and the safety of players was an issue.
"We will now have to sit down with our counterparts from the Russian Federations and decide when we can stage the fixture."
Northern Ireland manager Michael O'Neill added: "We experienced freak weather over a short period of time, from late Thursday and early Friday - freak weather which would have been challenging for any association to get the game on.
"At the end of the day there are more modern stadia that could maybe deal with it but it's the first time in history it has happened (to Northern Ireland), so it's not something we haven't managed well, or have mis-managed over time."