The rearranged date for World Cup qualifier between Northern Ireland and Russia still to be decided
Northern Ireland's World Cup qualifier with Russia still to be rearranged following the postponement over the weekend.
Last Updated: 25/03/13 7:03am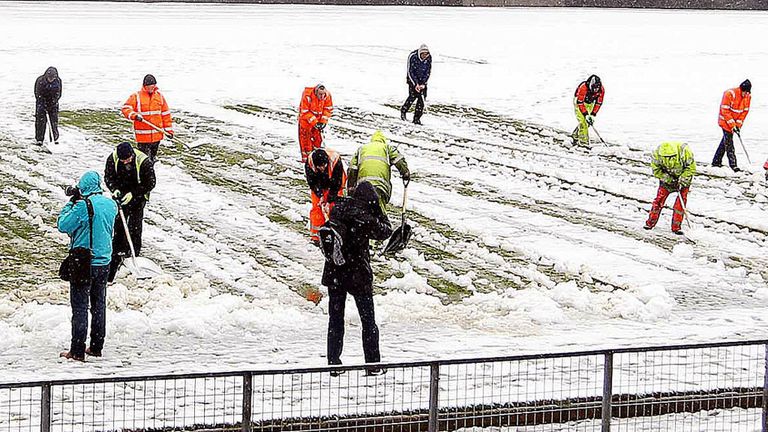 The Group F match, called off on Friday and Saturday due to snow and ice at Windsor Park, will need to be played before the end of qualifying in October but there appears to be several sticking points to enable a new date to be agreed.
Russia face Portugal on 7 June and are likely to want to fit in a trip to Belfast following that to make a double header.
But the Irish Football Association is against scheduling the game several weeks after the end of the British domestic seasons, when players will have been out of full-time training and may have holidays booked.
An international date also exists on 14 August, but Russia have already agreed to face Argentina in a friendly.
Northern Ireland manager Michael O'Neill has suggested a possible rearrangement for the end of May, but the wedding of defender Jonny Evans at the end of that month may hamper that notion.
The Northern Irish will not be able to initiate negotiations with the Russian associations until after their match against Israel on Tuesday, and if no agreement is reached FIFA will be called on to nominate the date.
When asked about a good time to play the match, Russia boss Fabio Capello said: "We will wait until the meeting with FIFA but we are ready to play anytime."
Concerning last week's horrendous conditions, Capello added: "It was impossible to play. The snow was bad and the parts that didn't have snow was really wet."
Regarding the options, O'Neill said: "When we come to talk about the new date, I'll have to take into account that a game in June is well after the players' club season is over.
"If we play on one of the international dates in June that could be four to six weeks since the players were in regular football - well into their summer break. That would not be ideal especially as its also at the end of a long, hard season.
"August is also an option but it would mean Russia cancelling their planned friendly with Argentina and I'm not sure they'd be willing to do that.
"So I'll be looking at a May date. If possible, I'm going for a date in May as close to the end of the season as possible. I know it may not be an international date, but I'm hoping something can be arranged."