Windsor Park and Casement Park given green light for redevelopment work
Two Belfast stadia have been given the green light to undergo major redevelopment work.
Last Updated: 20/12/13 6:24pm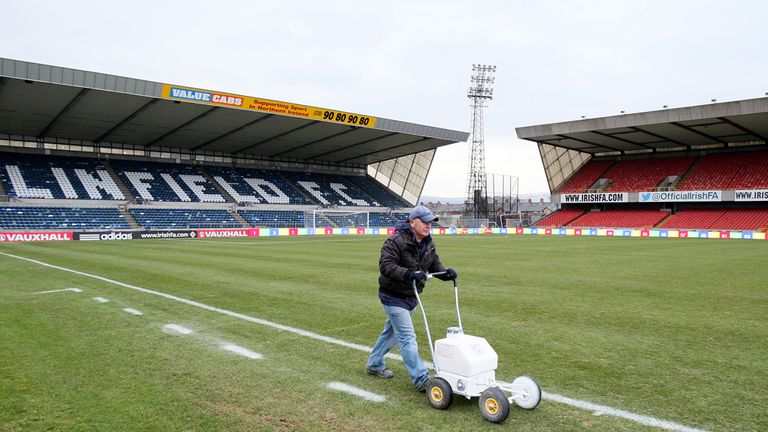 Windsor Park, where the Northern Ireland football team and Linfield FC play their home matches, and Casement Park, the home of GAA inter-county side Antrim, will both receive extensive upgrade work.
The Irish Football Association has been given approval by the Department of Culture, Arts and Leisure (DCAL) for the £31million funding for the redevelopment of Windsor Park.
It is now in a position to appoint a contractor for the design and build of the National Football Stadium.
Northern Ireland Sports Minister Caral Ni Chuilin said: "This signals a new chapter in the history of Windsor Park.
"Funding of £31m will allow the Irish Football Association to modernise Windsor and raise the capacity to 18,000.
"This is a tremendous boost for the local football family which will see two new stands and two refurbished stands."
The redevelopment is expected to cost up to £35m, with the remaining £4m coming from the IFA.
Meanwhile, Casement Park has been granted planning approval which will see the west Belfast ground's capacity increase from 32,500 - which is mostly terracing - to a 38,000 all-seater stadium.
Construction work is expected to begin in spring next year and will be completed before the start of the 2016 Ulster Championship.
The Casement Park announcement is also a major boost to Ireland's hopes of hosting the 2023 Rugby World Cup.
Ravenhill, the home of Ulster Rugby, is already undergoing major development which will see the capacity rise from 11,400 to 18,000. That work is expected to be completed by next summer.