Euro 2016: Michael O'Neill upbeat on Northern Ireland chances
Boss Michael O'Neill believes Northern Ireland can qualify for Euro 2016 after a favourable qualifying draw.
Last Updated: 23/02/14 4:58pm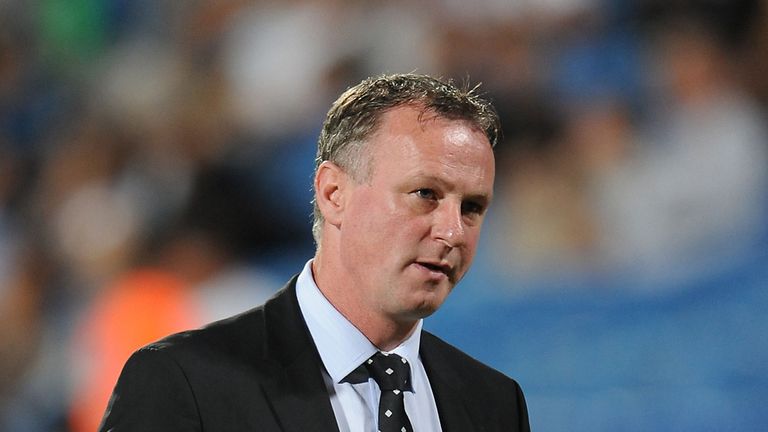 Northern Ireland have not qualified for a major tournament since 1986 but the expansion of the finals to 24 teams means the top two in Group F will qualify automatically, with the third-placed team going into the play-offs.
O'Neill believes third is a realistic target, but is not ruling out qualifying automatically from a group in which Greece are the top seeds, with the Northern Irish avoiding the likes of Germany, Holland, Spain, England and Italy.
"I think we've got to be pleased to be honest," O'Neill told Sky Sports News. "You always look at the top nations, and Greece will be very, very tough game but they would probably have been the one you would have chosen.
"There are teams in there - Hungary, Finland, Romania - who I believe we can compete with and get points from and give ourselves a chance to be competitive. And obviously we have the Faroe Islands who we have had trouble with in the past and a team who will cause problems for all the teams in the group.
"So I'm happy with the draw. Greece is the only team in recent times which has a track record of qualification. That hopefully will help us."
Northern Ireland head to Hungary for their opening fixture on Sunday September 7th, with the first home match coming against the Faroe Islands on Saturday October 11th, before a trip to Greece three days later.
O'Neill's men face a tough away clash in Romania on Friday November 14th, while they host Finland in the first match of 2015 on Sunday March 29th.
The return match against Romania comes on Saturday June 13th and Northern Ireland travel to the Faroe Islands on Friday September 4th, three days before they host Hungary.
Another home game against Greece will be held on Thursday October 8th and the qualifying campaign finishes with a fixture in Finland on Sunday October 11th.
O'Neill admits their home form in Belfast will have to be rock solid if they are to launch a bid to qualify for France.
"We need to pick points up at home. We need to learn lessons from recent times when we have dropped points against some of the weaker nations," he said.
"We have to make sure we maximise points at home and I think against the likes of Hungary, Finland and Romania we are capable of doing that.
O'Neill is a big supporter of the expansion of the tournament to 24, saying it gives teams like Northern Ireland and supporters genuine hope for the first time in many years.
"It changes it dramatically. It does give everybody a realistic belief, not just for the players but also for the fans as well. They get behind the campaign very early. Third place - whilst you want to get there automatically - the third place is achievable with 14 points."
O'Neill is hoping that the schedule will see them avoid Greece in the early matches, and he says a good start will be critical to the campaign.
"The key thing for us will be avoiding Greece early and possibly Romania," he said. "One of the things we failed with in the last (World Cup) campaign was getting points on the board early. If we can do that then the fixtures later in the group will take care of themselves."
Sky Sports expert and former Northern Ireland international Iain Dowie also believes they have a real chance.
"You've got to be happy - I do think that's a group we're capable of qualifying from. We've got to put to bed the minnows. You can't afford to drop points against the minnows. If we can do that we can qualify."
Sunday 7 Sept (a) v Hungary
Saturday 11 Oct (h) v Faroe Islands
Tuesday 14 Oct (a) v Greece
Friday 14 Nov (a) v Romania
Sunday 29 Mar (h) v Finland
Saturday 13 Jun (h) v Romania
Friday 4 Sept (a) v Faroe Islands
Monday 7 Sept (h) v Hungary
Thursday 8 Oct (h) v Greece
Sunday 11 Oct (a) v Finland