Euro 2016: Michael O'Neill confident Northern Ireland can reach finals
Michael O'Neill believes a new qualifying format could play into Northern Ireland's hands as they take aim at Euro 2016.
Last Updated: 31/03/14 10:08am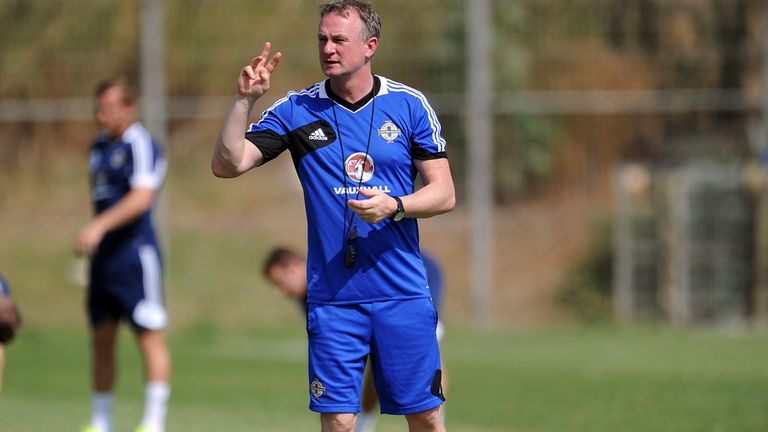 With the European Championship set to be expanded to 24 teams when the tournament heads for France, there will be an extra eight places up for grabs.
Finishing third in a qualification group could be enough to sneak through, and that offers fresh hope to those who have struggled in recent times.
Northern Ireland fall into that category, but a favourable draw in Group F alongside Greece, Hungary, Romania, Finland and the Faroe Islands has national coach O'Neill upbeat regarding his chances of overseeing a successful campaign.
He said in the Daily Mirror: "I am happy. Greece will be a very tough game but it would probably be the country you may have chosen (from the top pot).
"We have teams in there - Hungary, Romania, Finland - that I believe we can compete with and take points from.
"We need to maximise our points at home. We're well capable of doing that.
"Automatic qualification is the aim but having third place to aim at also helps.
"You could possibly get third place with 14 points, which is achievable."
O'Neill is confident he has enough quality at his disposal to put Northern Ireland in contention, with fresh faces such as MK Dons midfielder Ben Reeves helping to add depth to the squad.
O'Neill said: "Ben is a player I've known was eligible, though his grandmother, for about 12 months or so, since he was at Southampton.
"He struggled to make the breakthrough there into the big time, but they are such a good grounding for youngsters and their academy is recognised for the quality players it is producing.
"There's Gareth McAuley and Craig Cathcart, who's played a lot under me.
"Alex Bruce hasn't played that much but he's fit and playing now for Hull, and we have Rory McArdle too.
"We may have to have a little versatility, but it gives others opportunities."