Northen Ireland boss Michael O'Neill admits he is forced to use young players too early
Michael O'Neill wishes it was harder for young players to break into his Northern Ireland squad.
Last Updated: 29/05/14 6:36pm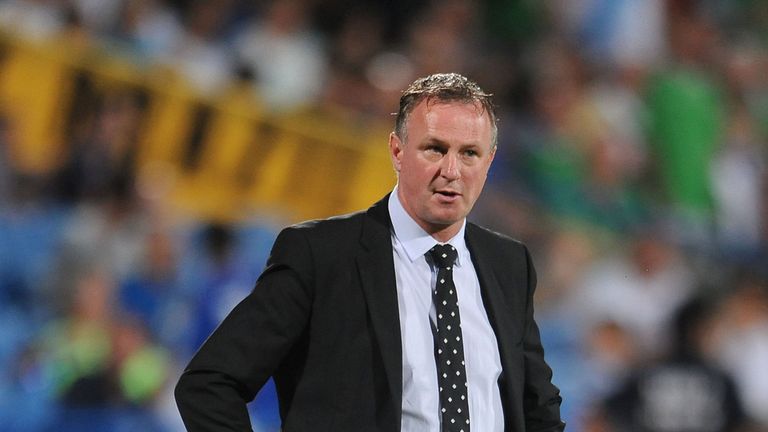 A spate of injuries has forced O'Neill to name a youthful group, including five uncapped players, for the upcoming match against England's World Cup opponents and next week's trip to Chile.
Among the new faces in the squad are 18-year-old Fulham defender Liam Donnelly, 19-year-old Liverpool full-back Ryan McLaughlin and Doncaster's 20-year-old centre-back Luke McCullough.
The trio have little first-team experience, hardly the correct preparation for international football, but O'Neill admits he has limited selection options.
"If I'm honest I wish it was harder for them to get to this level," he said.
"It would benefit them more if it was more difficult to get to this level. They're probably getting their chance a little bit easier than they should do.
"But of course it's exciting to have the chance of working with them.
"The ones who are here are in a pool of players where the next generation of international players will come from. The only ones outside that pool will be through eligibility and they're not coming out the woodwork.
"So while they're very young they're not that far from being involved. As we go into the first qualifier against Hungary in September it's not beyond the realms of possibility that some of these younger players will be needed."
Early in his reign, a youthful line-up suffered a 6-0 defeat at the hands of Holland and O'Neill is keen to avoid a repeat in Montevideo.
"You never want that to happen, but it's out of my control in a sense, the reality is Holland were brilliant against us that night," he said.
"It's about getting the balance right. The younger ones might come in without too much fear but you have to be fair to them.
"You don't want to put them in when it's too much for them and they dread coming in to play again.
"But we're not in a position really to protect the players from that, we have to put them in.
"Whoever plays can only benefit from it. I wouldn't expect to see players destroyed by this experience."
The hosts will be missing injured Liverpool striker Luis Suarez, which is a relief to the Northern Ireland camp.
"Uruguay haven't had a fantastic two years of results," said O'Neill.
"They finished fifth in World Cup qualifying and won a play-off with Jordan.
"They scored 25 and conceded 25, and they're heavily dependent on a front two, Cavani and Suarez, who are on a par with anything in the world.
"Suarez is not playing, which is a great bonus from our point of view, and I don't think there'll be any real surprises - they're not a team that really forces the issue."