Contract news: Northern Ireland's Aaron Hughes awaits offers after QPR deal expires
Aaron Hughes will enjoy a once-in-a-lifetime trip to South America as he awaits offers from potential new employers.
Last Updated: 02/06/14 5:39pm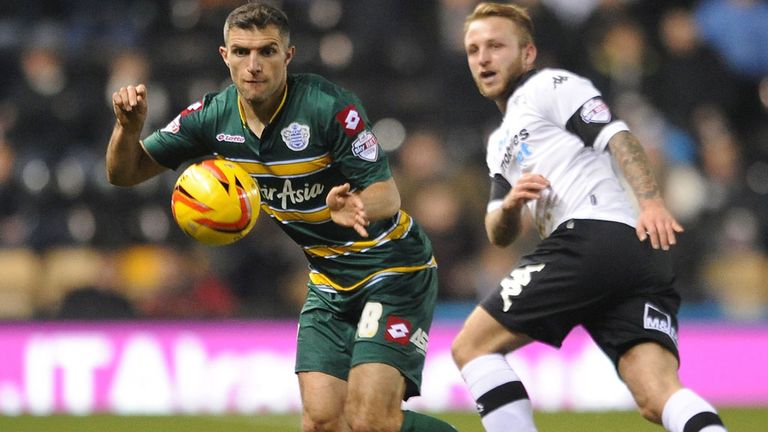 The Northern Ireland centre-half is unsure of his future for the first time in a 17-year career which most recently took him to Queens Park Rangers.
Hughes, 34, started 11 Championship games for the club after leaving Fulham for Loftus Road on a short-term deal in January, but he is yet to find out whether he is part of Harry Redknapp's plans for next season's Premier League campaign.
In the meantime, Hughes travelled to Montevideo for Northern Ireland's 1-0 defeat to Uruguay and should feature against Chile in Valparaiso on Wednesday.
He said: "This is the first time I've been at the end of my contract. I've always moved to another club with time left on my contract or had a new contract in place.
"It's all new to me and that is why I'm trying not to get too excited or worried about it. I will be speaking to my agent and I will find out more when I get home to find out what's going on.
"The big thing was to get to the end of the season and see what happened. It was only a week or so ago but it seems a long time.
"From there I've come on this trip and the focus was to go and enjoy this and the two games after the season ended because I haven't played as much as I would have hoped in recent weeks.
"This was a chance to play football and it is a new experience - probably my only chance to play in South America. I will have a few weeks' holiday after this and then look at my options."
Hughes came out of international retirement in 2012 when Michael O'Neill became manager, and he said: "This the furthest away I've ever been with Northern Ireland and a lot of that is down to the manager.
"When I first spoke to him about coming back to international football it was this sort of thing that convinced me to come back. He does care and he knows the finer details that really matter and make the difference."