Michael O'Neill targets Northern Ireland set-piece improvement
Michael O'Neill believes set-pieces could hold the key to improving Northern Ireland's fortunes in front of goal.
Last Updated: 03/06/14 4:04pm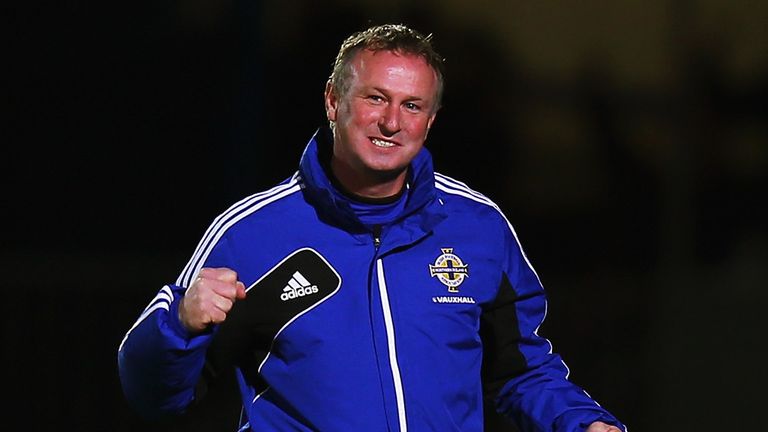 O'Neill's side managed less than a goal a game during their World Cup qualifying campaign, scoring only nine times in 10 outings as they finished a well-beaten fifth in their group.
They have struggled in recent friendly outings as well and head into Wednesday's clash with Chile on the back of blanks against Turkey, Cyprus and Uruguay.
Although their 1-0 defeat against the latter in Montevideo was a credible one, their forward line of Inverness' Billy McKay and Aberdeen's Niall McGinn continued to splutter.
And O'Neill concedes their lack of goals from free-kicks and corners will just make life harder as they look to regain their touch in the final third, something that has been badly out of tune since David Healy's remarkable scoring streak ended.
"The reason it's difficult for us to win games at this moment in time is pure and simple: we struggle to put the ball in the net," said O'Neill.
"It's not a tactical issue, it's a personnel issue. When you have that scenario it's going to be hard to win games, simple as that.
"Northern Ireland need to start scoring more off set-pieces and that's based on two things: quality of delivery and attacking the ball.
"Look at our game against Portugal last year, 4-2, our goals were both from set-pieces and three of theirs were. The Champions League final, Atletico Madrid versus Real Madrid, both scored from set-pieces.
"It's a huge, huge part of the game.
"When we're missing Jonny Evans and Gareth McAuley it's difficult for us at both ends of the pitch at set-pieces.
"We don't really have a defensive player who scores a lot of goals for their club from set-pieces, at the minute it's just not in the make-up of the squad.
"But it's definitely an area we can improve. Anything in the final third of the pitch we need to get better at and maximise. If you only have a certain percentage of ball in that area of the pitch you need to do more with it.
"We're going to need 1-0s, 1-1s. Greece won their group and scored 12 goals for the World Cup. They won eight games and drew one scoring 12 goals. That's the kind of template we'll look to."