McShane pays father tribute
Paul McShane will be thinking about his late father when he leads Republic of Ireland against Italy.
Last Updated: 06/06/11 9:24pm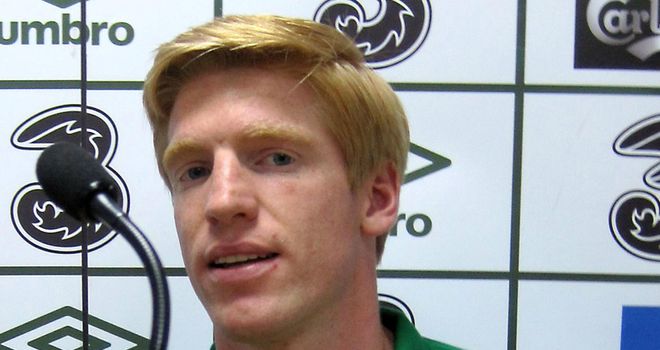 Paul McShane will be thinking about his late father when he leads Republic of Ireland out for Tuesday night's friendly with Italy.
The 25-year-old Hull City defender has been named captain for the match in Liege in the absence of regular skipper Robbie Keane.
It will be a proud moment for Dubliner McShane, who on Sunday took most of the squad to a charity golf day in memory of his father, Sean.
The former hurler died suddenly in March and his son admitted Sunday's event proved to be an emotional one for his family.
"My dad was a major influence in my life," he said. "Since I was very young, he would always come to every game and he was always there for me.
"Hopefully, he's there looking down on me tomorrow. I am sure he will be very proud also.
"It's an honour. I don't want to bore you with all the cliches, but my family will be very proud of me. I found out just a few hours ago, so I didn't have time to ring anyone and tell them.
"I always love meeting up with the Irish team, and leading the team out tomorrow night is fantastic.
Shock
"It was such a shock," McShane said of his father's passing. "That takes a lot of time to get over. It was quite emotional.
"My mum and my sister were there (on Sunday), and my brother. It was a great turn-out. It was great to see all the lads there as well.
"He was quite an admired man around the local area, so there were quite a lot of people there to celebrate it. It was a good day.
"It was for autism around the local area. I'm not sure how much we raised - we had to be back for a curfew, so I didn't find out."
McShane was a big admirer of the way Roy Keane led Manchester United and the Republic when he was a youth player at Old Trafford, before leaving for West Brom in 2006.
"I was captain all my schoolboy days, and I captained the Manchester United Youth Cup team and Manchester United reserves," he said.
"In senior football, I haven't been captain that much, but I suppose being at a young age, there are not many captains at that age.
"I suppose it's something that's one of my aims in my career, to captain my country. Hopefully one day I will be a permanent captain.
"I'm very determined and I have got a lot of desire, which hopefully rubs off on people. Hopefully I lead by example.
"Roy Keane was an amazing captain for Manchester United. Growing up in Manchester United's youth team, he was such a presence around the place. As a captain, he was probably one of the best."
Manager Giovanni Trapattoni handed McShane the armband with goalkeeper Shay Given and midfielder Glenn Whelan unavailable.
"Paul is always ready," he said. "His character and his mentality and his attitude, he is somebody I can trust."
Italian scandal
The 72-year-old coach also called for a change in the culture of Italian football amid a new match-fixing scandal in his homeland, which has seen 16 people arrested following allegations involving Italy's lower divisions.
"I am deeply saddened," he said. "Italy and its football are seen all over the world. We have the eyes of the world on us and in a way, we shoot ourselves in the foot, we hurt ourselves and it is just impossible to believe.
"There are and there always have been strange people in football and around football. What I find stranger is that young players let themselves get involved in these type of situations.
"It happened back in my day as well, but I always kept my distance. That's what matters, you need to keep your distance. We, culturally, need to find a way to eliminate this sort of thing from football."