Trap hails mentality
Giovanni Trapattoni's hailed his players' mentality after the Republic of Ireland beat Armenia to earn their place in the Euro 2012 play-offs.
Last Updated: 11/10/11 10:49pm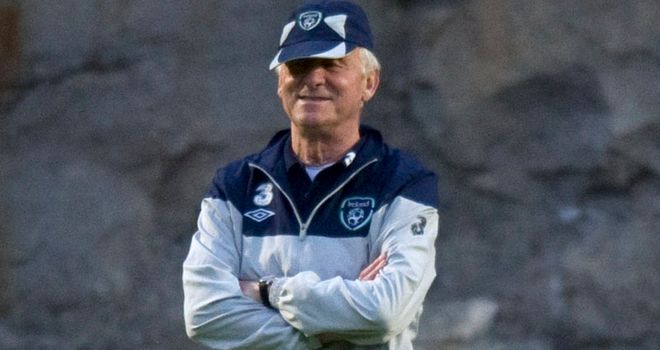 Giovanni Trapattoni's hailed his players' mentality after the Republic of Ireland beat Armenia to secure their place in the Euro 2012 play-offs.
Armenia suffered a double first-half blow with keeper Roman Berezovsky being sent-off before then going behind just before the break when Valeri Aleksanyan put through his own net.
Richard Dunne then doubled Ireland's lead in the 59th minute but Armenia, who went into this game on the back of a three-match winning run, did not accept defeat lightly.
Henrikh Mkhitaryan pulled a goal back before home striker Kevin Doyle was sent off as Trapattoni's men held on to finish second in Group B.
"We met a great team," Trapattoni told Sky Sports 1.
"It was only our attitude, our mentality, our application in our system that we could have won this game because in the first half we suffered very, very much."
Difficult
He added: "Armenia in the first half played very, very, very well and it was very difficult to control the game.
"They had more possession, yes, they played better than us, yes, in the first half, but I don't remember any particularly difficult situations for us."
Trapattoni has told his players they must accept whatever Thursday lunchtime's draw in Krakow for the Euro 2012 play-offs throws at them.
Turkey, Estonia, Bosnia & Herzegovina, Croatia, Montenegro, Portugal and the Czech Republic have also qualified for the play-offs and Trapattoni, whose side seem likely to be seeded along with Portugal, Croatia and the Czechs, is happy to accept whatever fate goes their way.
He said: "All the second-placed teams are very important. We must accept whichever team.
"The first and second teams in the table are always great teams. But I think it would be better to play the first game away and the second at home.
"We have only done 50 per cent of the job because there is now the play-off."
Not the same
Asked if Ireland would have to play better against whichever side they draw in the play-offs, Trapattoni said: "All opponents are not the same.
"Maybe the next won't be as good as Armenia."
Trapattoni's only disappointment on the night was the red card which will prevent Doyle from playing in the first leg of next month's play-off, although he would have missed the game anyway as a result of his first booking.
The Italian said: "I want to see it again. I immediately asked the linesman and he said he had used his elbow.
"But that's not Kevin Doyle."
Opposite number Vardan Minasyan's post-match press conference was brief and to the point.
He said: "Congratulations to the Irish team, I wish you luck in the play-off.
"You are a very good team, but I am very proud of my team. We have done a very good job and we can be proud."