Ireland await Euro 2012 draw
The Republic of Ireland will be hoping the luck of the play-off draw is smiling on them on Thursday.
Last Updated: 13/10/11 12:55pm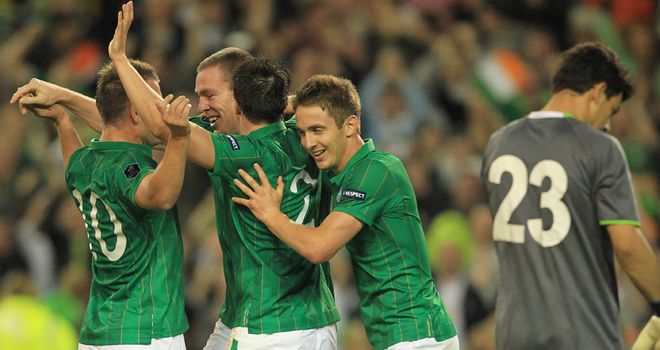 The Republic of Ireland will be hoping the luck of the play-off draw is smiling on them when they find out their opponents on Thursday.
Two years after the bitter defeat to France in the 2010 World Cup play-off, the Republic are again in the hat - but this time they are seeded.
Giovanni Trapattoni's men will not have to face the other seeded teams, Portugal, Croatia and the Czech Republic, who were selected on the basis on Uefa's national team coefficients.
Their opponents in the draw in Krakow will be chosen from Turkey, Bosnia-Herzegovina, Estonia and Montenegro, who are the four unseeded teams.
Seeded teams will no longer be guaranteed the second leg at home however - ironically that rule was scrapped after the Republic's controversial defeat to France. That will now be decided by the draw as well.
The Republic have not qualified for a major finals since 2002 and keeper Shay Given is crossing his fingers for a good draw.
Asked for his preference as opponents, he said with a smile: "Somebody easy. We will just take it on the chin. Whoever we play will know they are in for a very tough game when they come here, and we will give them a tough game at their home place as well.
"Please God, we can get across the line this time and get through the play-offs."
The draw ceremony takes place at noon BST and will be conducted by Uefa general secretary Gianni Infantino and legendary Poland striker Zbigniew Boniek, one of the final tournament ambassadors.
Already through to the finals, alongside co-hosts Poland and Ukraine, are England, holders Spain, Germany, Russia, Italy, France, Holland, Greece, Denmark and best runners-up Sweden.
The finals draw is on December 2 in Kiev and the tournament runs from June 8 until July 1 next year at eight venues.