Ward admits to Wolves spats
Stephen Ward has admitted there have been a "couple of spats" behind the scenes at Wolves as the club face Premier League relegation.
Last Updated: 10/04/12 2:56pm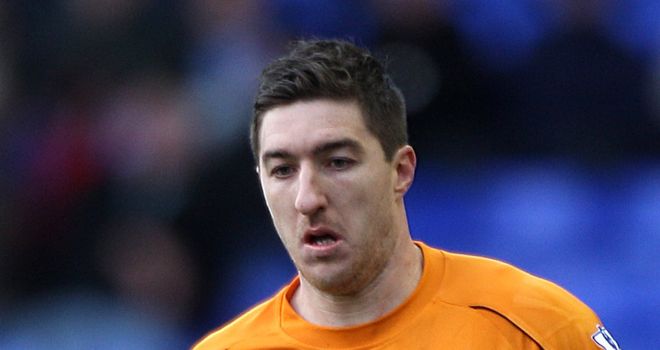 Stephen Ward has admitted there had been a "couple of spats" behind the scenes at Wolves as the club face Premier League relegation.
The left-back's comments follow similar comments from fellow Republic of Ireland international Stephen Hunt at the weekend, hinting at dressing room unrest at Molineux.
Keeper Wayne Hennessey and skipper Roger Johnson were involved in an angry on-pitch exchange during the 3-2 defeat to Bolton last month and Johnson was subsequently dropped for Saturday's 2-1 loss at Stoke.
But Ward revealed disagreements were inevitable given Wolves' dismal run of form that includes six consecutive defeats - the club's worst sequence in over a quarter of a century.
"It's tough. Ask any team in the bottom three, there are going to be a couple of spats here and there," said Ward.
"Of course people are going to be angry and upset. That's what happens, but I don't think there's been too much unrest."
Karl Henry, who was stripped of the captaincy following Johnson's arrival in the summer, had the armband restored at Stoke - and Ward was quick to admit the midfielder had a positive impact.
"He makes a big difference and it was good to have him back, and fully fit," he said.
No surprise
"It's no surprise because he's been captain of this club for three or four years.
"He's probably the one player who's most used to wearing the armband."
But Ward did have some strong criticism for referee Mark Halsey after the weekend defeat at the hands of Stoke.
Halsey penalised Ward for a tackle on Jermaine Pennant that led to Peter Crouch's headed winner.
It is the second time Wolves have been the victim of a questionable decision from Halsey this season, after the same official also failed to give Wolves a penalty against Newcastle in October.
And Ward remains furious with the referee, adding: "I think he has 'done' us a couple of times this season, what with Newcastle as well.
"It was never a free-kick in a million years. It was a terrible decision. I don't think you're allowed to tackle anymore in the game are you? I just can't understand how he can give a free-kick for that."