Trap rules out major changes
Republic of Ireland boss Giovanni Trapattoni has ruled out wholesale changes to his side for the crucial clash with Spain.
Last Updated: 12/06/12 7:56am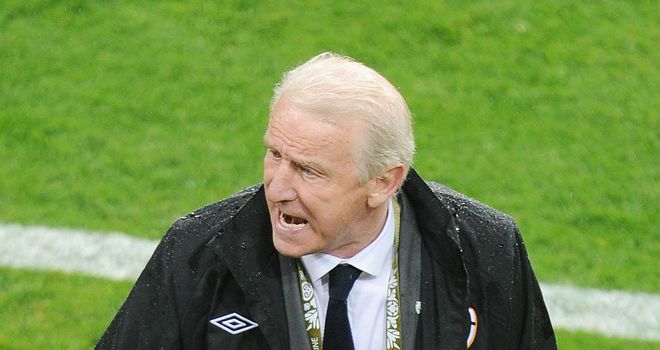 Republic of Ireland boss Giovanni Trapattoni has ruled out wholesale changes to his side for the crucial clash with Spain.
The Irish take on holders Spain in Gdansk on Thursday desperate to take something from the game following their 3-1 defeat to Croatia in their Group C opener.
There have been calls for change in the starting XI following the Republic's limp display against Croatia, but Trapattoni is ready to keep faith with the majority of his players.
"Our team usually play better against famous teams, famous players. We must believe in our quality, the reasons that got us here," noted Trapattoni.
"Usually Spain dominate the midfield. I think we can adapt ourselves with the players we have. We have other players that can do double jobs. For example, Cox and Walters. They can help."
When asked whether it would be skipper Robbie Keane who made way, Trapattoni added: "Keane is very important. He has personality, experience."
Trapattoni also suggested he is unlikely to throw in Sunderland's James McClean against Spain, preferring to stick with his experienced players.
"It is important to [introduce young players] at a quiet opportunity, not when we need a performance under pressure. It's a heavy weight on his shoulders," added Trapattoni.
No second guessing
Meanwhile, Trapattoni admits he does not know what to expect from Spain counterpart Vicente del Bosque as the pair prepare for Euro 2012 battle.
Del Bosque caused raised eyebrows when he named his team for Sunday night's Group C opener against Italy and did not include a single specialist striker.
That left £50million Fernando Torres and Athletic Bilbao star Fernando Llorente, among others, kicking their heels on the bench.
However, Republic of Ireland manager Trapattoni is not about to try to second-guess an old foe ahead of Thursday night's must-win encounter between the two nations in Gdansk.
"I think after I saw the game, maybe, maybe, he will play with Torres. Maybe. But Vicente decides his own tactics," said Trapattoni.
"Maybe he thought the Italians have a good defence and he would play with these small, fast and tactical players.
"He changed when he understood. At this moment, he had the necessity to put up front a big striker and he [Torres] had a good opportunity.
"I don't know how he will play against us. Sure, we know which team we have in front of us, what quality they have. I have an idea, but at this moment, I couldn't say 'this' or 'this' or 'this'.
"But I can't think about if they will play with Torres or without Torres, also Llorente or the other strikers. That's not my job, it's Vicente's job."