O'Shea aims to end on high
John O'Shea has vowed Ireland will do everything they can to go out of Euro 2012 on a high after their elimination was sealed against Spain.
Last Updated: 15/06/12 1:46pm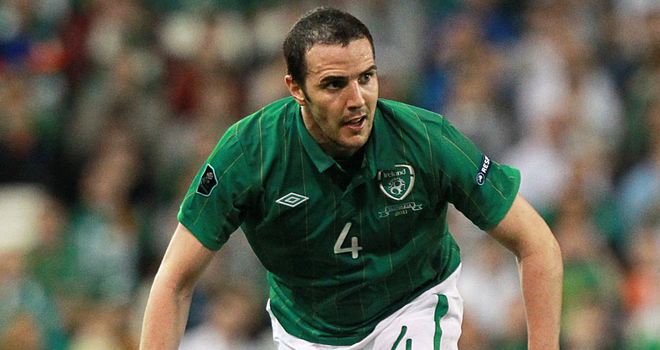 John O'Shea has vowed Republic of Ireland will do everything they can to go out of Euro 2012 on a high note after their elimination was sealed against Spain on Thursday night.
Giovanni Trapattoni's men head for Poznan on Monday knowing the result of their final Group C clash with Italy is immaterial, at least for them, after defeat to Vicente del Bosque's men followed up an opening loss against Croatia.
However, the 31-year-old Sunderland defender is determined to give the fans something tangible to shout about after two immensely disappointing evenings in Poland.
Important
O'Shea said: "It is massively important. We don't want to leave this tournament with three defeats.
"We will be doing everything we can to get something from the game, not just for the fans but from our own point of view as well, the players and the staff.
"We have worked so hard for the last few years in the qualifying campaign.
"Especially for the fans, the numbers they have travelled in and the support have given us, and especially for the tournament and for the group, we will definitely be doing all we can against Italy."
On Friday Trapattoni had the job of trying to pick up his players after the most comprehensive defeat of his reign to date - indeed, it was their heaviest reverse in a competitive match for 41 years.
Spain's 4-0 success at the PGE Arena in Gdansk put them in position to ease themselves into the quarter-finals when they meet Croatia, who also have four points after a 3-1 victory over Ireland and a 1-1 draw with the Italians, on Monday.
The Republic were simply unable to stem the tide as they turned in another sub-standard display in the face of irresistible pressure to lose for the second successive match after a 14-game unbeaten run leading up to the finals.
Having conceded goals three minutes into either half against Croatia, Ireland were pierced four minutes into either half by the Spaniards
Difficult
Asked if it had been his most difficult night in football, O'Shea said: "Possibly, yes.
"But you are aware beforehand how well they keep the ball, the number of passes they create in matches and the possession they create in matches.
"It is one of those. You think to yourself, 'Could different systems work? Could different players work?'.
"But you just hold your hands up and say 'stop the mistakes at the start of the game and the start of the second half', and then you have some sort of chance no matter what players or what system you are playing."