Questions to answer
Sky Sports looks at the issues facing Giovanni Trapattoni after Ireland's Euro 2012 failure.
Last Updated: 30/06/12 4:12pm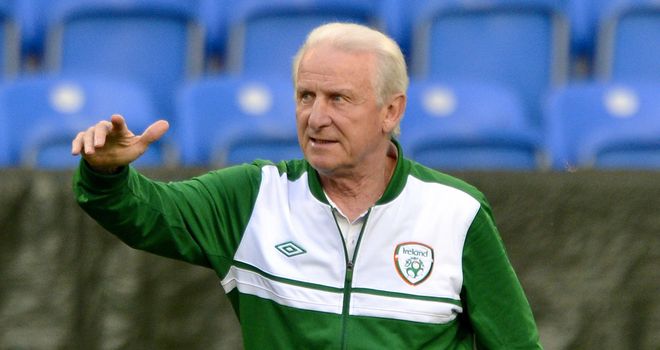 Giovanni Trapattoni has questions to answer after Republic of Ireland travelled to Euro 2012 convinced they would make an impact before failing miserably.
They did so on the back of two qualifying campaigns which had suggested they were capable of positive performances, and having earned the respect of even the biggest teams on the continent in the process.
In the event, their stay in Poland and Ukraine proved brief as they failed to produce anywhere near the form which had taken them there, eventually returning at the earliest opportunity without a point to their name and having conceded nine goals and scored only one in three demoralising Group C games.
Ireland, of course, were not the only country to underachieve, with Russia and Holland the most high-profile of the first round drop-outs.
However, a nation raised on the heroics of the 1988 European Championship - the last for which they qualified - and the World Cup finals of 1990, 1994 and 2002 expected much, much more, and there has been an ensuing bout of introspection.
Trapattoni presented a defiant front as he surveyed the wreckage of a campaign which disappointed and surprised in equal measure, and the Italian swiftly turned his attention to the qualifying campaign for the 2014 World Cup in Brazil.
The 73-year-old said: "In my life I have had many successes and been the manager of great teams.
Mistakes
"I have always had the habit of winning and not losing and when I lose, I don't sleep at night. I think about if I have made mistakes.
"The willingness is there to come back with fresh energy and a new squad to do better, and I can't wait for the new season to start."
Trapattoni insisted he was going nowhere amid suggestions in certain quarters that the time may have come to part company with a man whose approach to the game has always had its detractors.
And John Delaney, chief executive of the Football Association of Ireland, has since indicated that there is no desire at the moment to end an association which has entered its fifth year.
But the nature of Ireland's untimely exit from the competition raised issues which simply must be addressed if they are to give themselves a platform upon which to rebuild their reputation as gate-crashers on the big stage.
Under Trapattoni, the Republic have risen steadily in FIFA's ranking list - they arrived in Poland sitting in 18th place, ahead of the likes of Czech Republic, Hungary and Turkey - and had proved difficult to beat.
Italy could not manage to find a way past them in two 2010 World Cup qualifiers and France needed William Gallas' illegally-assisted goal to claim a play-off victory, while Ireland somehow survived an all-out assault in Moscow last September to claim a 0-0 draw with eventual group winners Russia on their way to the Euros.
Lethal header
Along the way, Trapattoni's reliance on a 4-4-2 system with two holding midfielders attracted criticism for its rigidity and conservatism, but the manager more often than not was able to point to results as the only justification he needed.
However, he was unable to offer that as a defence in Poland as the wheels came off in spectacular style.
Croatia striker Mario Mandzukic set the Republic on the back foot within three minutes of the start of their campaign when he beat goalkeeper Shay Given alarmingly easily with a well-placed, but hardly lethal header, and the spell was broken.
The Croatians ran out 3-1 winners in Poznan and a shell-shocked Ireland were subsequently dismantled by Spain in Gdansk as they slipped to a 4-0 defeat.
They rallied against Italy to hold Cesare Prandelli's men for 35 minutes, but ultimately went down 2-0 to end their campaign pointless and facing an uncomfortable inquest amid speculation that several senior players could announce their retirements.
Trapattoni's perceived inflexibility was a main thrust of the arguments against, but while the veteran Italian undoubtedly made mistakes, he was not alone.
Ireland never came close to the standards they had set themselves in qualification, with even their most reliable men - Given, key defender Richard Dunne and record goalscorer Robbie Keane - woefully short of form during a competition in which even their best might not have been good enough in light of the company in which they found themselves.
Dunne admitted: "As much as we wanted to do well, we know we haven't. We are playing against teams that are better than us and it's hard to accept that our best at the moment isn't good enough."
Trapattoni has already indicated that the likes of James McClean, James McCarthy and Darron Gibson will have roles to play in the new campaign. But just how far he himself is prepared to adapt remains to be seen.