Doyle reveals McClean words
Kevin Doyle says Rep of Ireland's senior players took James McClean to one side and gave him a dressing down after his foul-mouthed message.
Last Updated: 10/09/12 9:54pm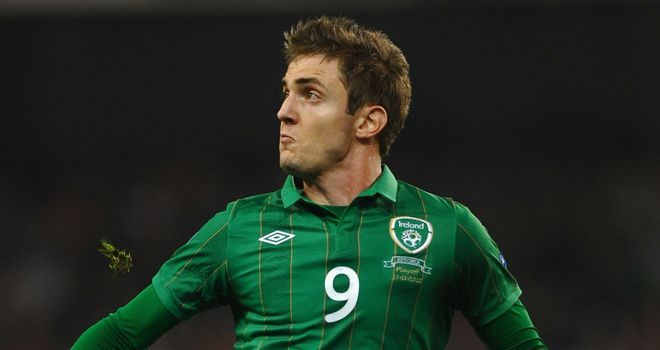 Kevin Doyle says Republic of Ireland's senior players took James McClean to one side and gave him a dressing down after he posted a foul-mouthed message on Twitter.
Sunderland winger McClean was furious at watching the Republic struggle to a 2-1 win over Kazakhstan from the bench last Friday evening and posted an angry rant on the social networking site after the game, adding that he was left "embarrassed" at not coming on to the field of play.
McClean was expected to start Tuesday night's friendly against Oman at Craven Cottage but the 23-year-old will now once again start on the bench, even though he apologised for the rant and was given a talking to in front of the squad.
Unacceptable
Striker Doyle, who came off the bench to score the winner in his 51st international appearance, spoke about how a group of senior members within the squad pulled McClean aside straight after the game to tell him he had crossed the line with his tweet.
He said: "We found out about it pretty much straight away and we said it to him straight away - it's not acceptable."
The Wolves man has seen his fair share of off-the-field controversies with the Republic during his 51-cap international career and he thinks McClean will actually benefit from the experience of his telling off.
"We ended up joking about it the next day," the 28-year-old added.
"We were thinking of getting him to sing in front of the group again - that made him nervous enough. I think he nearly cried the first time he did it.
"A few of the lads find it quite traumatic when they stand up in front of us so it might have been good for him."
Giovanni Trapattoni has confirmed that only one player who started in Astana - James McCarthy - will begin Tuesday night's game, meaning the likes of Seamus Coleman, Shane Long and David Forde will have a chance to stake a claim for a regular place in the team ahead of next month's World Cup qualifier against Germany.
David Meyler and Robbie Brady will both make their debuts and Doyle will captain the team, Trapattoni confirmed.
Meyler, 23, has missed a large chunk of the last two seasons through cruciate knee ligament injuries, but Doyle thinks the midfielder will have a long and successful international career.
Impressive
"He hasn't looked out of place at all since he came in," said Doyle.
"I hope he does well tomorrow because he has been impressive in training and he has told me about his two cruciates on the same knee.
"I have never had a serious injury like that so I can't imagine what it's like mentally, never mind physically, to come back from that.
"That he has come back shows his character, what he is all about, and shows he will have no problem in dealing with what comes his way in the Ireland team."