Keith Fahey hopes to start for the Republic of Ireland against Germany
Republic of Ireland midfielder Keith Fahey is hoping to start against Germany in Friday's World Cup qualifier.
Last Updated: 10/10/12 11:14pm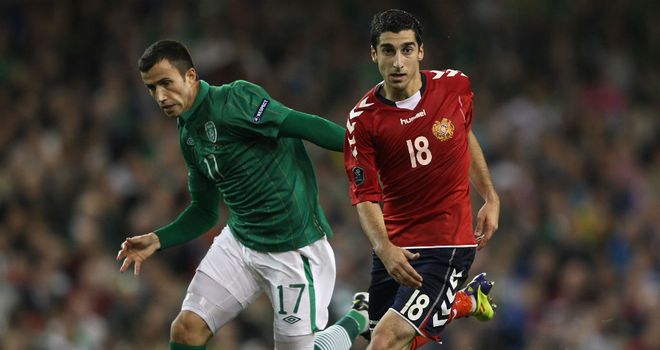 The 29-year-old Birmingham star, who has collected 15 caps to date, missed the Euro 2012 finals in the summer due to a persistent groin injury.
But he has emerged as the favourite to clinch the third spot in Giovanni Trapattoni's re-shaped central midfield alongside Keith Andrews and James McCarthy.
Fahey said: "To be honest, I have missed nearly a year now since I last played with injuries and I am desperate to play, I am desperate to play for Ireland.
"I am not one who comes and expects to sit on the bench every game, I want to play.
"If I have to do better in training or whatever, I am willing to do it. I want to play, I want to get more caps under my belt, I want to do well. I want to wear the green shirt."
On the possibility of a new system being adopted by Trapattoni, Fahey added: "It might bring opportunity.
"In the summer, I dropped out and someone else came in. In football, someone's loss is someone else's gain, so maybe there will be opportunities for lads to step in and get a chance to play.
"Playing three against the quality of Germany is going to help the team be more solid.
"When we played Spain, the two lads, Keith and Glenn, put in a massive shift, but they still couldn't get near Spain with their quality. But playing a three in there will definitely help the team be more solid.
"But whatever way the manager decides to go, he has got personnel there who want to play and want to wear the green shirt. Everyone is willing to do whatever they are asked to do."