Giovanni Trapattoni expects to stay after Republic of Ireland defeat Faroe Islands
Giovanni Trapattoni expects to stay in charge of the Republic of Ireland after the 4-1 victory over the Faroe Islands.
Last Updated: 17/10/12 8:19am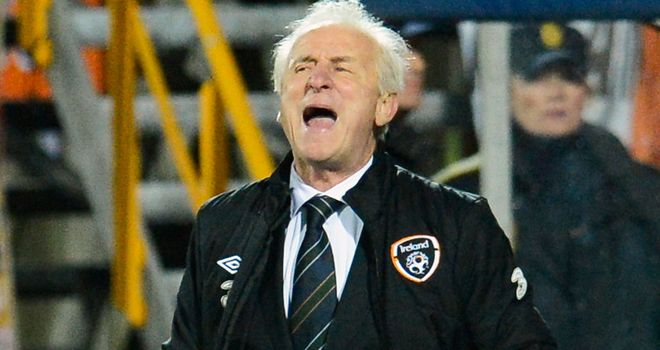 Trapattoni has been forced to fend off speculation that his job is in peril after last Friday's 6-1 thrashing by Germany, but strikes from Marc Wilson, Jon Walters, Darren O'Dea and an own goal eased the pressure on the Italian.
When asked about his future, he said: "We have in November another game. I expect. We started three games ago - we have won two games, we have lost one against the best team [in Group C]. It's not my decision.
"I know what I can do, but it's not my decision. I don't have a problem. For me, it's my job. I say always I am proud to be the manager of this team with these players.
"We have discovered many, many young players in the last three years and sometimes we can lose. Football is like this."
Trapattoni's usual post-match de-brief, which was scheduled for Wednesday evening in Dublin, has been cancelled, but the 73-year-old has revealed he is returning early to Italy for personal reasons.
"I have a meeting in Italy, and my sister is in hospital and I am not sure how serious it is, so I would like to return," he said.
Asked if he expected to meet FAI chief executive John Delaney or any other officials in the coming days, he said: "No, absolutely not.
"That's my professional seriousness. In other countries, people know Trapattoni is a professional man, and that is a great honour.
"There is a very simple sentence in my history: the winners has 100 fathers, the losers are orphans.
"Football associations change like the wind, they can change in a second."