John O'Shea believes youngster Robbie Brady can succeed at Manchester United
Republic of Ireland captain John O'Shea believes Robbie Brady has got the talent to succeed at Manchester United.
Last Updated: 13/11/12 6:50pm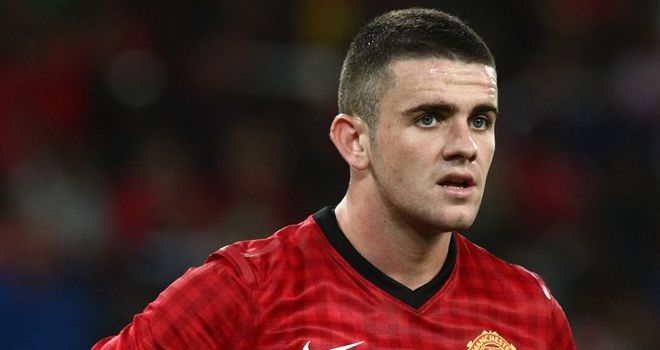 The 20-year-old, currently in his second loan spell at Championship Hull City under former United defender Steve Bruce, will start Wednesday night's friendly against Greece at the Aviva Stadium after manager Giovanni Trapattoni handed him and fellow wide man James McClean a chance to make a name for themselves.
Brady, who made his first competitive start for his country in last month's 4-1 World Cup qualifier victory over the Faroe Islands, has already made an impact on the international stage and O'Shea, who knows exactly what it takes to succeed at Old Trafford, is confident he has what it will take to do just that.
"He definitely does, but he also needs to get the run of games into him to show when he goes to Hull that he is more than capable of playing at that level and showing his talent, as he did last season," he said.
"He got a few more chances then when he went back in, in pre-season and a couple of the League Cup matches.
"It's one of those things. Look, Robbie is a very intelligent lad, he is under no illusions that he is facing a very difficult task.
"But he has got a lot of ability and he has got the talent to back it up, so if he did get a chance to get a run in the Manchester United team, I am sure he would take it with both hands.
"But as I said, he's got a lot of competition."
Opportunity
Brady shone in the September friendly victory over Oman as he announced himself in style, and O'Shea knows Wednesday night's game is an opportunity for the youngster to grow in confidence.
He said: "It definitely helps you. He has got a fantastic left foot and he is very creative. He will get the chance tomorrow to show that, hopefully, and take another step forward."
A few weeks short of a year ago, McClean embarked upon a similar journey when he was thrust into the limelight by new Sunderland manager Martin O'Neill, and he made such an impact that he forced his way into Trapattoni's squad for the Euro 2012 finals.
However, the 23-year-old has found the going a little tougher this time around with the Black Cats struggling as a team, although club-mate O'Shea has no doubt he will bounce back.
He said: "Look, he's come on in leaps and bounds. He was the surprise factor last season. He came in when the manager took over, he got into the team and took everything right in his stride.
"You are obviously more aware of a talent like that and now teams are marking him more tightly, they are doubling up on him.
"The manager left him out for a few games there as well because of the quality of the squad we have.
"It's up to us to get the ball to James in better positions, get it to him quicker. It's up to us to make sure we are giving the ball to him in better situations where he can show the talent that he undoubtedly has.
"Any time any young player plays for their country, it's going to give him a fantastic boost, and I am sure knowing the type of character James is, he will take it all in his stride."