Republic of Ireland striker Simon Cox says there will be no repeat of thrashing
Republic of Ireland striker believes that there will be no repeat of the 6-1 thrashing at the hands of Germany.
Last Updated: 14/11/12 9:24am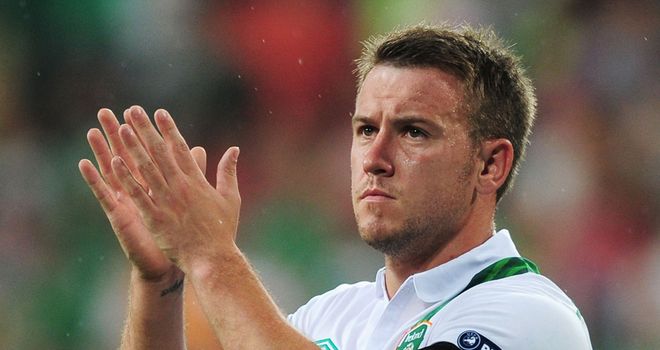 Germany embarrassed the Irish last month when they scored six goals in Dublin to leave Giovanni Trapattoni under pressure as manager.
Instead, the Italian was backed by the Football Association of Ireland and Nottingham Forest striker Cox believes that his Irish side can match the achievements of Sweden, who came back from four goals down to draw in Berlin.
"Listen, if they can go there and score four, I don't see why we can't.
"We are a very good team away from home as well, so if we took that approach into that game, then...
"You never know, you might get picked off and get another defeat, but at the end of the day, if you go and have a go, you never know what can happen, do you?"
Cox also spoke of his respect for his manager and is confident that his methods will lead to success.
"If he is going to get the sack, it's going to be by doing things his way, and fair play to him because he has kept his job.
He added: "He is staying and he is going to do the things he knows how to do and he is going to get the players to play the way he feels is the right way to play and do the things he feels are right for the country."
Ireland face Greece on Wednesday evening, their first home game since the Germany defeat.