Robbie Keane: I can carry on playing for another five years
Robbie Keane has no intention of following Michael Owen into retirement for "four or five years".
Last Updated: 20/03/13 6:54pm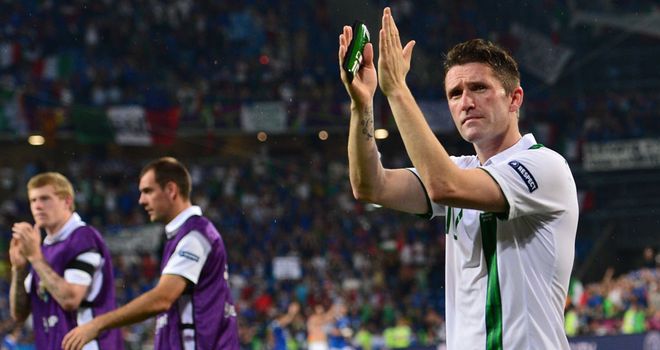 The Republic of Ireland's record scorer is set to win his 123rd international cap in Sweden on Friday, three days after contemporary Owen announced he will quit at the end of the season.
And the 32-year-old: "As long as I'm healthy and fit, I can easily carry on for another four or five years, easily.
"I am coming towards the back end of my career - I don't mean the end. I will still be playing for certainly a good few years.
"I have seen Michael Owen retiring from football. Us two came around the same time.
"I dread the day I have to finish playing because it's my life, this is what I love doing. I wake up every morning and look forward to going to training and playing games."
The latter years of Owen's career have been spent largely warming the substitutes' bench, first at Manchester United and then current club Stoke, while the much-travelled Keane sought pastures new in Major League Soccer as he looked to continue his international career.
But he has always maintained that his hunger for what he does has never diminished, and he insists that remains the case.
Privileged
Keane said: "I am always enjoying it. Even when things are not going well, you have to enjoy it.
"I'm very privileged to have the lifestyle that I have. I wake up every day and I get paid for something that I love doing. Not many people can say that."
Keane was excused Ireland's two most recent friendlies, a 1-0 home defeat by Greece in November and last month's 2-0 win over Poland, to spare him more trans-Atlantic travel and allow the Achilles problem which plagued him last season to recover.
But, while he has no regrets over not adding to his 122 caps in those games, he will move to within one of record-holder Shay Given if he plays against the Swedes and again when Austria arrive at the Aviva Stadium four days later.
Having spent the last decade and more putting international defenders to the sword, the former Tottenham and Liverpool striker is well-placed to assess the threat posed by fellow frontman Zlatan Ibrahimovic, and he revealed he has received inside information from the Swede's Paris St Germain team-mate David Beckham.
Keane, who was speaking at the launch of the Future Football, a McDonald's Ireland and FAI programme to support grassroots football, said: "He's a top player.
"He's certainly one of the best strikers at the moment in the world, certainly on current form. He's banging the goals in.
"I was speaking to Becks and he was saying how good he is in training. Since he's been there, I think he's scored in every game.
"He's a top player. He's certainly one to watch, but I wouldn't focus too much on one player because they have other quality in the team.
"But it's one of those. We have to concentrate and look after what we do rather than worry too much about Sweden."