FAI chief executive John Delaney coy on Giovanni Trapattoni's future
FAI chief John Delaney has refused to confirm Giovanni Trapattoni will keep his job regardless of the next two results.
Last Updated: 20/03/13 9:50am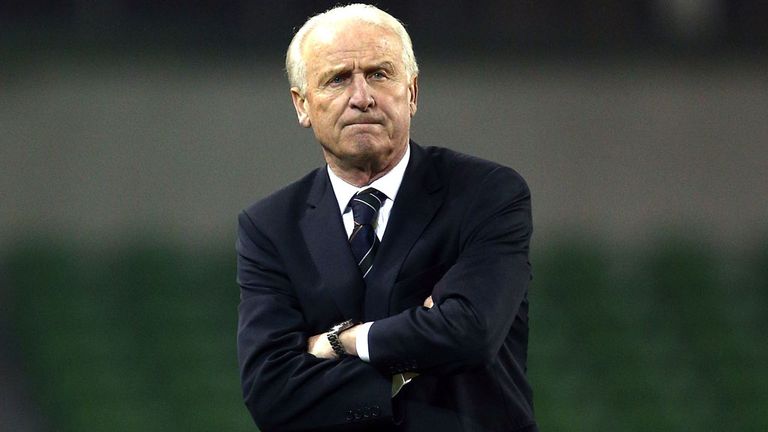 Trapattoni's future was discussed following Republic of Ireland's 6-1 defeat at home to Germany earlier in the season, but the board decided to stick with a manager who had achieved qualification for Euro 2012.
Ireland are now bidding to reach the World Cup and face crucial games in the coming week against Sweden and Austria, and Delaney refused to confirm that Trapattoni would remain in charge whatever happened.
"We are not going to comment on whether a manager keeps his job or not," he told Sky Sports News.
"We made our decision last October after the two games that we are supporting the manager because he has delivered for us and he is experienced.
"I would like, most of the board would like and Irish soccer supporters would like that we are competitive in this group after these two matches.
"I respect him for what he has done on and off the field. There is always going to be a discussion about his style of play and whether it is attractive or not.
"If we win these two games, he'll be a king in this country, like he was when we qualified."
Ireland are still in contention to qualify for the World Cup after winning two of their first three fixtures, and Delaney insists it was the right decision to stand by Trapattoni after the loss to Germany.
He said: "There was a wave of optimism going into the Euros which maybe, in hindsight, was too high as some of our key players were injured going into the tournament.
"Like everything in life, when something is not working you have to reappraise it and have look at it and see how you can improve.
"We spoke to the manager very openly and very honestly (after the Germany loss).
"It was tough medicine, not just as chief executive but as an Irish football supporter. The board sat and took our time to make a decision, which was obviously to reaffirm his management.
"First of all, he is an experienced manager. Secondly, he had delivered for us up to the Euros, and thirdly, we had six points out of nine.
"There are many other national associations who would love to have six points out of nine."