World Cup: Giovanni Trapattoni satisfied with Republic of Ireland 0-0 with Sweden
Republic of Ireland manager Giovanni Trapattoni was satisfied with a point from the 0-0 draw in Sweden.
Last Updated: 23/03/13 9:23am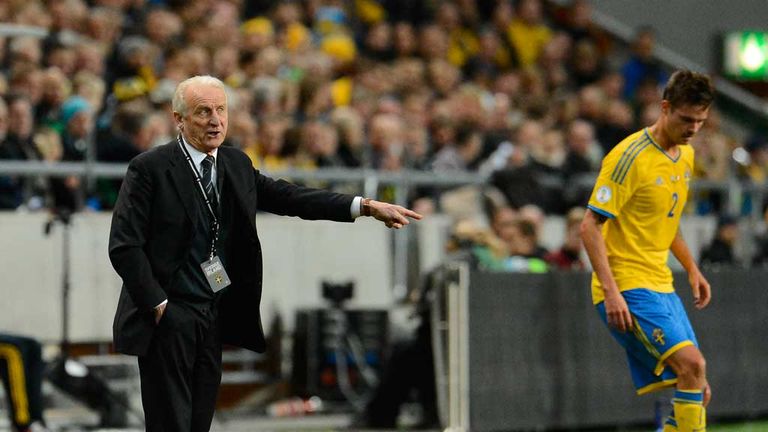 Sweden, who drew 4-4 with Germany in October, had the better chances in the Group C clash.
However, Irish goalkeeper David Forde twice saved well in the first half and again in the dying moments to preserve Trapattoni's unbeaten record in away qualifying matches.
"I think this 90 minutes is a good result," said the Italian. "Sweden have not forgotten how to score four goals, as they did against Germany.
"We started and in the first minutes we had a great opportunity with Shane Long.
"He could strike better but it was a good opportunity. Afterwards the game had a good balance.
"I don't know if Sweden were afraid about us but we were not afraid of them.
"For us it was very important not to concede a goal, or concede a defeat. Now we have played nine games without losing away.
"We are slowly changing some players in this team and the young players are getting more confident.
"I am sure we can increase this in the future, with this group."
Ireland captain Robbie Keane said: "I wouldn't say Sweden weren't great - I'd say we were great in what we did.
"If Sweden weren't great it is because we stopped them from playing. It is as simple as that. We were hunting in packs and stopping them from playing.
"Of course we would have wanted three points but with the way we stopped them, nobody really had too many chances to score. I think, overall, we were the better team."
Sweden coach Erik Hamren said: "We are still an inexperienced team. Some of the players have not much experience as a team.
"Maybe that is why it is like this. The first half against Germany was not good either.
"We knew it was an important game for everyone but maybe that is one reason we didn't come up with the quality we wanted. But we were playing a team who are really good away.
"If you know the statistics, they haven't lost away in two qualifications."