Robbie Keane not thinking about calling time on Republic of Ireland career
Robbie Keane admits he finds it hard to understand players who do not enjoy turning out for their country.
Last Updated: 29/05/13 7:53am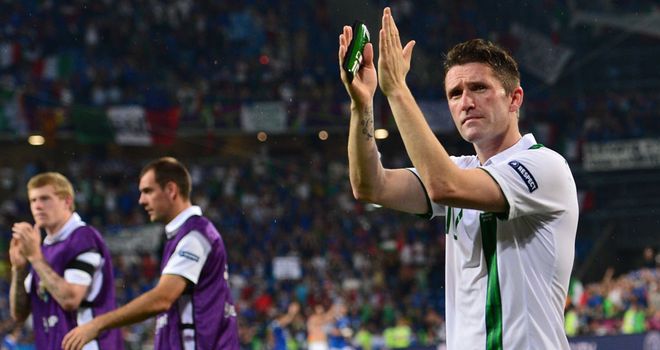 The Republic of Ireland captain will win his 124th cap when he lines up against England at Wembley on Wednesday, after getting late permission from the LA Galaxy to make a trans-Atlantic flight.
While Keane has changed clubs a number of times, his international career has been one of few constants and he says it will remain one of his priorities until the time comes to hang up his boots.
"For me, it's fairly simple: I want to play for country more than anything, and it still means as much to me now as when I made my debut at 18 years of age," Keane said. "That's certainly never changed.
"I can never understand why players don't want to play for their country, I find that very hard to take in.
"But that's only my personal view on that, people have their own reasons why they won't turn up or say they are injured or say they are not injured or whatever. I don't understand it, to be honest with you.
"Since I've been in the squad I don't think I've missed many games, to be honest with you. I have missed them through injuries.
"Certainly some players over the years who I have played with would prefer not to meet up with the national team. Me personally, I just find that hard to believe."
But he said that there were parts of him that could understand his former Leeds team-mate Rio Ferdinand's decision to end his international career with plenty of years ahead of him.
"You have to understand it from Rio's point of view," Keane said. "He's such a well-respected player and still probably one of best defenders in the world.
"He made his choice - he maybe went about it the wrong way or the manager did, I'm not really too sure of the politics behind that.
"I played with Rio at Leeds and he's a great lad. I know how much it means to him to play for his country but whatever happened between him and Roy Hodgson, that's something you are going to have to ask them.
"But one thing I do know is that England are missing probably one of best players in the world."