Robbie Keane seeks Irish improvement at Yankee Stadium
Robbie Keane is hoping Ireland will perform better against Spain in New York on Tuesday than when they last met
Last Updated: 10/06/13 10:54pm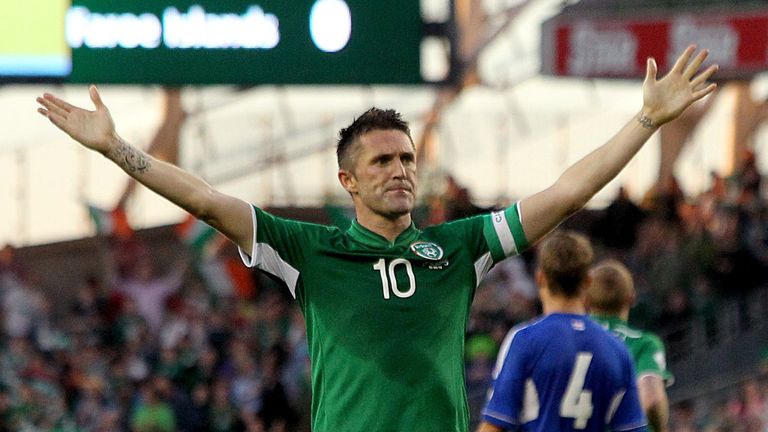 A year ago this week in Poland, at the Euro 2012 finals, Spain scored four times against Ireland who finished bottom of their group with three defeats from as many matches.
The 32-year-old LA Galaxy striker will lead the Irish at the Yankee Stadium in New York for this week's friendly and Keane believes moral in the camp is good.
Only Keane and Sean St Ledger faced Spain in Gdansk 12 months ago but the ex-Tottenham forward said: "It was difficult for everyone because of the manner in which we were beaten by teams (at Euro 2012), whereas in the past, that has never been the case.
"The way we set our stall out to play against these teams and how we are always a very, very hard team to beat, for whatever reason at the Euros, it just didn't happen for us.
"In saying that, we were playing against the two eventual finalists, Italy and Spain, but the way we were beaten was disappointing for everybody.
"But now seeing the players the last two weeks, the younger lads, the way they have stepped up to plate in training, they have been absolutely magnificent, so it's certainly looking good now."
As for facing the reigning world and European champions in Tuesday's friendly at the large Yankee Stadium in the Bronx, Keane added: "You could play Spain in a phone box and they would still keep the ball from you.
"I don't think it really matters to them, to be totally honest with you.
"Big pitch, small pitch, it doesn't really matter, they are going to keep the ball."