Gerard Pique insists status as Confederations Cup favourites will not distract Spain
Gerard Pique insists Spain's status as Confederations Cup favourites will not distract them from their preparations.
Last Updated: 10/06/13 10:38pm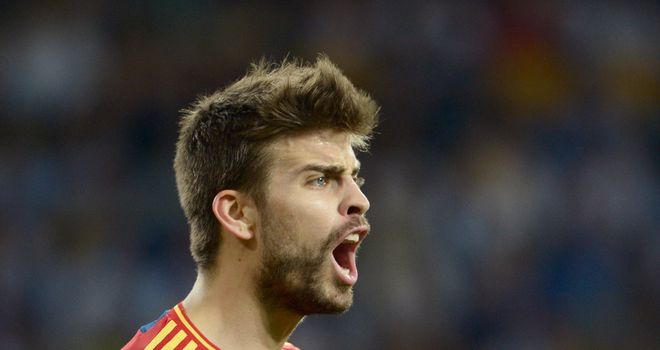 The reigning World and European champions will launch their campaign against Uruguay in Recife, Brazil, on Sunday having been heavily tipped to add to their glittering array of trophies.
However, as manager Vicente Del Bosque put the finish touches to his plans ahead of Wednesday morning's friendly against the Republic of Ireland in New York, central defender Pique was taking nothing for granted.
He said: "We don't think of ourselves as favourites or number one, but we know we have a good chance in the World Cup or Confederations Cup.
"We keep our feet on the ground, and it is a great feeling in the dressing room."
Despite Pique's modesty, Spain's recent dominance of the international stage means they will be regarded as the team to beat.
However, fellow defender Alvaro Arbeloa knows that simply comes with the territory.
He said: "We know how tough it is to get to the top and maintain that. We know how much teams want to beat us, but we are very motivated to keep on winning - and especially in the Confederations Cup."
Arbeloa's comments came as talk of his differences with Real Madrid team-mate Iker Casillas over departing manager Jose Mourinho continued.
The full-back had earlier admitted he believed some of the players had let Mourinho down, while others were happy to lay the blame for the club's failure last season at the feet of the Portuguese.
However, asked about the situation, Arbeloa said: "It is fine and it is good. We have a good relationship as Spanish players and we wear the same crest on our shirt."
Spain beat Haiti 2-1 in Miami on Saturday evening and Del Bosque will shuffle his pack ahead of a clash with Ireland which Pique believes will represent a good test.
He said: "The game against Haiti was a good game to try some aspects, and we can continue to try to play different keepers and strikers to find the best team we can.
"It (Ireland) is a good national team with strikers like Robbie Keane, who has had a good international career, and we hope we can win it."
Victor Valdes will start in goal, while Santi Cazorla will play in an attacking role behind David Villa.
Del Bosque said: "We have team that can either be more offensive or more defensive based on what we choose.
"Overall, we will likely follow the same formula tomorrow that we used against Haiti, in particular with Javi Martinez in the middle and Santi Cazorla as an attacker.
"It's a formula that we believe in."