Gary Neville: Premier League at tipping point regarding foreign players
Gary Neville believes a limit on foreign players should be introduced to the Premier League to help the home nations.
Last Updated: 13/08/13 9:23am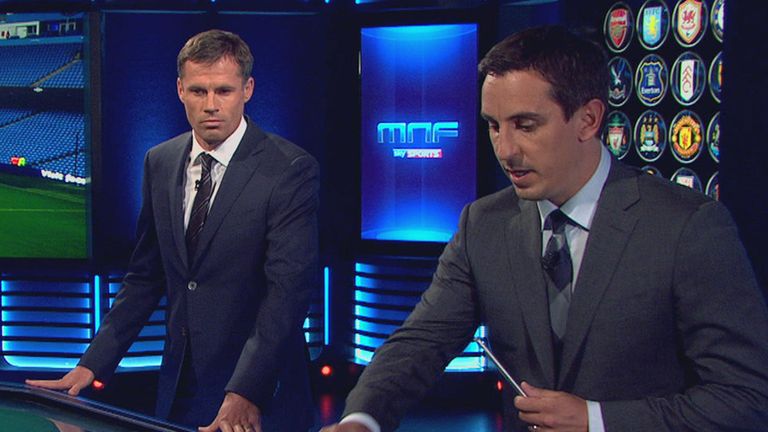 The Sky Sports pundit fears England's top flight has passed its "tipping point" when it comes to foreign players and is concerned about the direction the British and Irish national sides are heading in.
Citing the start of his own career as an example when clubs were limited to the amount of overseas players they could field, Neville has suggested an inversion of that system whereby managers would have to pick players from the home nations.
He told The Guardian: "Last week I looked at a list of players signed into the Premier League. I like to think I'm well-read on football but, honestly, I'd never heard of 50-60 per cent of them.
"All right, we might unearth lots of talent from abroad. And some fantastic foreign players and managers have enhanced British football no end. But I used the phrase 'tipping point' last season and I feel we're going too far right now.
"We need to protect our English, Scottish, Welsh, Northern Irish and Irish national teams by giving more boys from those countries more opportunities."
Neville made his name at Old Trafford as part of a side heavily made up of young talent such as David Beckham, Paul Scholes and Ryan Giggs.
However, the England coach feels that had he been trying to make a breakthrough in this era, he may have struggled.
"When I came through in the mid-1990s there was a rule where only a limited number of foreign players could be included in a team during European competition," he said.
"We benefited from that because, as young British players, we got opportunities. We need to get back something of that ilk - where each team has three or four players from the home countries at the start of every match.
"My chances of making it as a pro footballer at the age of 18 in 2013 would be a lot less than 20 years ago."
Neville's co-analyst at Sky Sports, Jamie Carragher, believes that academies should be prevented from buying foreign players.
"Academies should be there for our kids and if you buy foreign players they should be in the first team," said Carragher in The Independent.
"I don't think it should be made easy for players to get into your first team. The foreign players have been brilliant for this country, but it's at the stage now where reserve and youth teams are full of foreign players.
"What chance do young players have if they can't get into the youth or reserve team? Let's give them that chance to show a manager what they can do and then ask, are they ready?"