Germany coach Joachim Low expects Republic of Ireland to test his side
Germany coach Joachim Low expects the Republic of Ireland to rediscover their "incredibly strong" defensive traits.
Last Updated: 09/10/13 5:22pm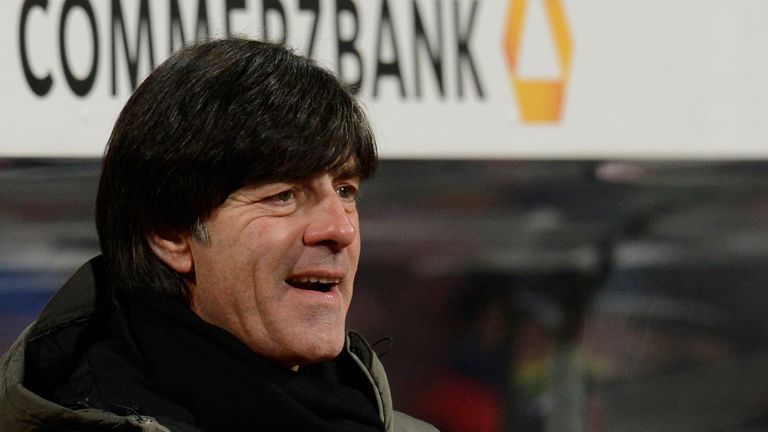 Low is preparing his side for a match where victory would guarantee Germany's berth at the World Cup, but he is not expecting it to be as easy as it was when his troops won 6-1 in the reverse fixture in Dublin last year.
"They did not show their true face in Dublin, we managed to exploit a few weaknesses they don't usually show, but when they go away from home, they defend incredibly well," said Low at a press conference.
"It's grounded in their mentality, with Gaelic games and rugby - they are born to defend and are incredibly strong physically."
Low does not expect Ireland to have changed much following the departure of manager Giovanni Trapattoni either, saying: "It doesn't matter who the coach is or even who the players are, they cannot radically change their system - they are defensive, compact with the maximum physical involvement.
"They like to get the ball towards goal quickly. They may not be world champions in keeping possession, but they get the ball forwards quickly and that's the way they are."
Germany are quite the opposite, focusing on an arguably more attractive build-up play based on getting the midfielders involved, both at the back and moving forwards.
Mesut Ozil is a key figure for that style, as he is for Arsenal, and Low believes his move to the Gunners is a match made in heaven.
"I saw him play his first home game and he created all three goals and the fans really took to him," Low said.
"You got the feeling that Arsenal's technically strong game needed a player like him, and it suits him down to the ground.
"He was a pivot in the team and Arsenal's highly-cultured game is very good for him. He is a player who always wants the ball."
Ozil should take his usual place in the Germany midfield on Friday night, but Philipp Lahm is set to revert to full-back, despite playing as a midfielder for Bayern Munich for much of the season.
"Philipp can play in any position, but I'm planning to use him as a full-back," Low said.
"You could stick Philipp anywhere and he'd do a job. I know he's incredibly versatile and I understand why Pep (Guardiola, Bayern coach) is playing him there, and he's told me, but I have enough midfielders to carry out that role.
"Philipp can do it, but he is world class out wide, where there is nobody like him - he's the best in the world so there's no point me creating a problem for myself now."
Indeed, Low does not have any significant problems. Following the withdrawals of Lars Bender, Sven Bender and Marco Reus, he has not lost any other players and was able to report a clean bill of health for his squad, including Mario Gotze.
"If we need him for 15 minutes, he can do something for us," Low said.