David Forde savouring his time in international spotlight with Republic of Ireland
David Forde is determined to savour every last second of his international career with the Republic of Ireland.
Last Updated: 15/10/13 3:16pm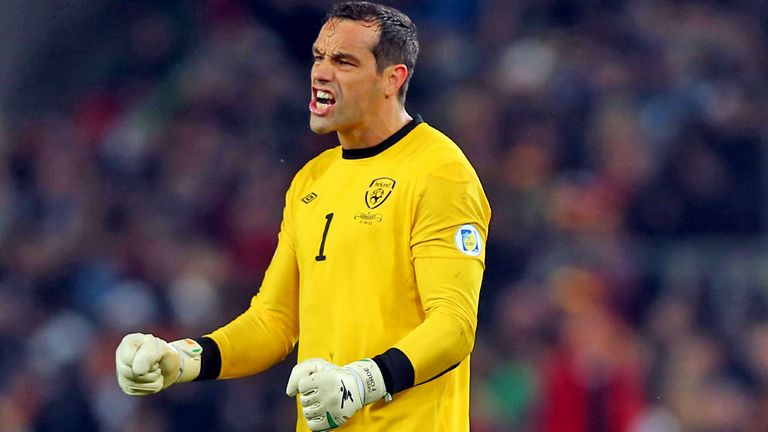 The 33-year-old Millwall keeper became the oldest Irishman ever to make a competitive debut when he lined up against Sweden in March and he hopes to be involved again against Kazakhstan on Tuesday.
He said: "It's been a phenomenal year for me, really. I got my lucky break and got my chance and I have been pleased with my performances.
"I am delighted as well because [goalkeeping coach] Alan Kelly has done a lot of work with me and helped me out, so it's always nice to pay it back.
"I am just going along and I am just enjoying it at the moment, each international game, because that's where you want to be playing.
"You want to be playing at the highest level and coming away to Germany, that's certainly the case.
"Sometimes as a keeper, you come away to difficult places and it can be a good night. Last night was one of those nights where everything seemed to more or less go for me, bar the goals.
"On a personal level, it's nice, but it's just disappointing overall."
Celtic striker Anthony Stokes failed to take any of the chances that came his way in Cologne, but he was just pleased to be back in the international fold after injury.
"Every season is big, but after the injury last year," he said. "I missed six or seven months of football and I had to bounce back because after an injury like that, you can go one way or the other.
"It's been a good start to the season for me so far. If I look at my performance last night, I am happy with my performance, I just didn't take my chances. But at the end of the day, that's what I'm paid for.
"I'm always annoyed when I miss chances, but there's nothing you can do about it. You just have to go out on the training pitch, work hard and try to take the next chance that comes.
"If you worry about it, it's going to affect you."
Don't forget you can watch Ireland's final World Cup qualifier against Kazakhstan on Tuesday 15 October on Sky Sports 3 from 19.30