Republic of Ireland captain Robbie Keane set to start against Kazakhstan
Ireland captain Robbie Keane is set to start against Kazakhstan on Tuesday night after recovering from an ankle injury.
Last Updated: 14/10/13 8:26pm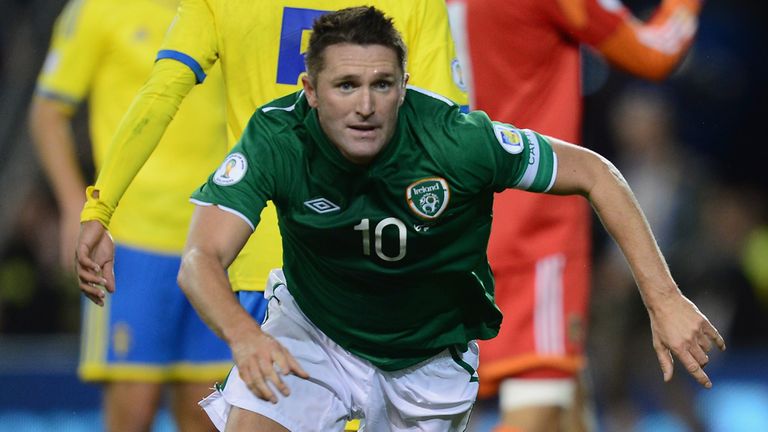 Keane was forced to miss Friday's 3-0 defeat to Germany but the Los Angeles Galaxy striker is understood to be likely to play the Kazakhs.
Anthony Stokes replaced Keane in Cologne and boss Noel King could opt for a straight swap.
But the Celtic star impressed against the Germans and, given that Tuesday's opponents are far weaker opposition, King may play both men.
Meanwhile Keane, who is in line to win his 130th senior cap against the Kazakhs, has outlined the qualities he believes are necessary to become the next full-time Ireland coach.
Martin O'Neill, Mick McCarthy and Roy Keane have all been mentioned as potential candidates.
Keane said: "The names I have heard being mentioned, if any of them took over, I think everybody would be fairly happy. It could be any of those - I don't know the answer to that.
"I want someone who is an honest manager who doesn't mess around, understands how important it is to be involved in international level, someone who is very, very proud to be a manager and be proud of what we are trying to achieve in Ireland.
"I think it's important whoever takes over it's a fresh start for everybody, the whole country gets behind them and we wish them well whoever that may be.
"As long as it's the right man, it doesn't matter. But of course, I think everybody at this stage now probably would want an Irish manager.
"I think it's probably clear and obvious to see that. It's looking likely that it probably will be, it seems that way, anyway - that's not me with inside information."
McCarthy guided Ireland to the 2002 World Cup finals in Japan and Korea, where his bust-up with the Roy Keane in Saipan resulted in the then captain heading home.
However, the man who currently wears the armband insists he would have no problem with McCarthy's return.
Keane said: "Mick is a great guy, a fantastic guy. Everything we have referenced, he comes into that mould. If it was Mick, if it was Martin O'Neill, Roy Keane, I don't think you could go wrong with any of them, to be honest with you."