Noel King wants Ireland to beat Kazakhstan to help Euro 2016 qualifying chances
Noel King says there is 'huge pressure' on Ireland to beat Kazakhstan to boost their Euro 2016 qualifying prospects.
Last Updated: 14/10/13 8:59pm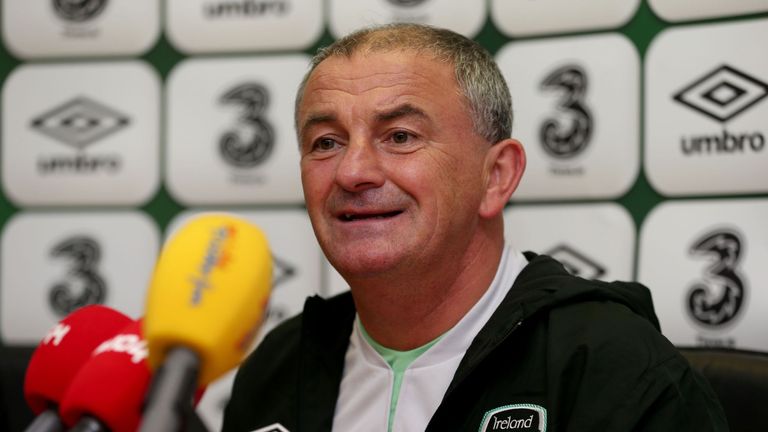 Ireland play their final match of the failed 2014 World Cup qualifying campaign at home to Kazakhstan on Tuesday and King is in caretaker charge following Giovanni Trapattoni's departure last month.
Though Ireland have little to play for in terms of their Group C standing, victory over the Kazakhs could lead to Ireland being among the second group of seeds in the qualifying draw for the 2016 European Championship.
King said: "If we win and a couple of other matches go accordingly, we will be a second seed, so it's huge, there's huge pressure on it.
"The boys will be aware of this and in terms of seeding for the next group, seeding is critical. If you can get a second seed, well that would be great, better than great.
"It gives you a real opportunity of qualifying for the tournament."
Under-21s manager King was handed interim charge of the Republic after Trapattoni was shown the door last month when their lingering hopes of booking a ticket to South America were effectively dashed by successive defeats by Sweden and Austria.
That left Ireland sitting in fourth place in the group ahead of only minnows the Faroe Islands and the Kazakhs, who collected their fifth point with a 1-1 draw in the Faroes on Friday evening as Ireland lost 3-0 in Germany.
However, asked if he would be embarrassed if he did not emerge with a victory at the Aviva Stadium, King said: "It depends on the manner of game.
"The expectation is, because of Ireland who we are, we think we are the greatest thing since sliced pan, we do and I do myself.
"If I was sitting in the stand, I'd be saying, 'We'll beat Kazakhstan'. But I'm not. We are here, we have a game to get on. We have got to start it, you don't know what happens.
"Would it be an embarrassment for me? If we apply ourselves and do well and do the basics correctly and we were beaten, no I wouldn't be embarrassed. That's football, you have got to live with that.
"But if we didn't perform and didn't do the approach and weren't dominant in phases, then I would be hugely upset.
"Would I be embarrassed? No, because I am an honest, hard-working coach from Dublin and if I do the right things and I keep my honour and the boys apply themselves, then I have no difficulty with that."
King is likely to make changes to the side which played in Cologne, but has indicated he will keep faith with the 4-2-3-1 formation he adopted at the Rhein Energie Stadion.
Skipper Robbie Keane, who missed out in Germany with an ankle injury, should be available following his return to training, while defenders Richard Dunne and John O'Shea will come into the reckoning after suspension.
But whichever 11 men line up before the first whistle, King insists his players will have to be ready to adapt to whatever comes their way from the Kazakhs.
He said: "They could have a stormer, we could be defending - if we have to defend, the boys will want to defend and defend well and then in between, we will be getting ready to attack, obviously.
"If we can attack, we hope to attack positively. You must just play the game as it is, read the game and be ready to do whatever is the best option you have.
"If that means we attack more, we will attack more, if we can; if that means we have to defend more, we will not be embarrassed to defend.
"Defending is a key point. People don't like it - I don't understand why - but it's a skill and done together as a group, it's a very strong skill."