Martin O'Neill admits it is an honour to be named Republic of Ireland boss
Martin O'Neill admits he jumped at the chance of taking over as the new Republic of Ireland manager.
Last Updated: 06/11/13 12:40pm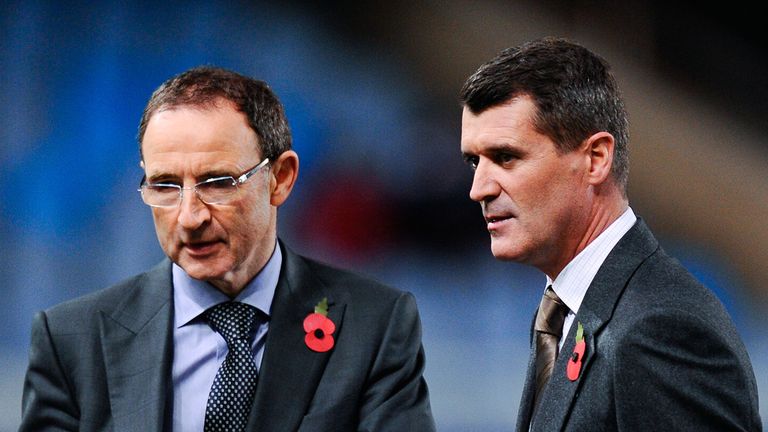 O'Neill, a former captain of Northern Ireland, was named as Giovanni Trapattoni's successor on Tuesday, with former Republic skipper Roy Keane as his number two.
"It's a privilege to manage the Republic of Ireland," he told Sky Sports. "A job like this may not come around for quite some considerable time.
"The Republic of Ireland have had some success, Jack Charlton was great, Mick McCarthy was excellent and Trapattoni did very well indeed and all stayed in the job for quite a number of years.
"So that opportunity may not be afforded to anyone in the foreseeable future."
And O'Neill, who has signed an initial two-year deal, insists the players will have no problem working with Keane despite his public fall-out with the FAI hierarchy at the World Cup finals of 2002.
"It's been a long, long time since that happened," he said. "I have spoken to John Delaney (FAI chief executive) and he is very, very pleased indeed that Roy is coming on board.
"Roy is naturally delighted himself and I think that going forward everything should be fine.
"The players will have no problem working with him. They will be very positive as they want to play for their country, regardless of who is running the team."
Ray Houghton, who had been tasked with helping to identify Trapattoni's replacement, insists there is 'no grey area' over the roles of O'Neill and Keane in the new managerial set-up.
Speaking to Sky Sports News, the former Ireland midfielder said: "Roy knows what he wants, where he wants to take the team alongside Martin, but he knows his position.
"Martin will be the manager and Roy will assist. So there's no grey area there, it's not like Roy's going to be on level terms.
"Martin will be the number one and Roy will do everything in his power to help him. It could be a good learning curve for Roy."
And Houghton believes Keane's strained relations with FAI officials in the past will have no bearing on his new role under O'Neill.
He added: "That won't be a problem. It took 30 seconds to put everything out of the way and now it's down to business.
"We have to leave the past in the past. We can't do anything about it. We can't change the past, what we can change is the future.
"For Irish football, it shows we're going in the right direction. It's exciting times. The next couple of years should be very, very good."
O'Neill, who takes over with the Republic 59th in the FIFA rankings, their lowest standing, will have his first taste of international management against Latvia at the Aviva Stadium, Dublin, on Friday, November 15.