Repubilc of Ireland boss Martin O'Neill warns James McClean over use of Twitter
Martin O'Neill has warned his players over their use of social media after James McClean was involved in a Twitter row.
Last Updated: 18/11/13 9:36pm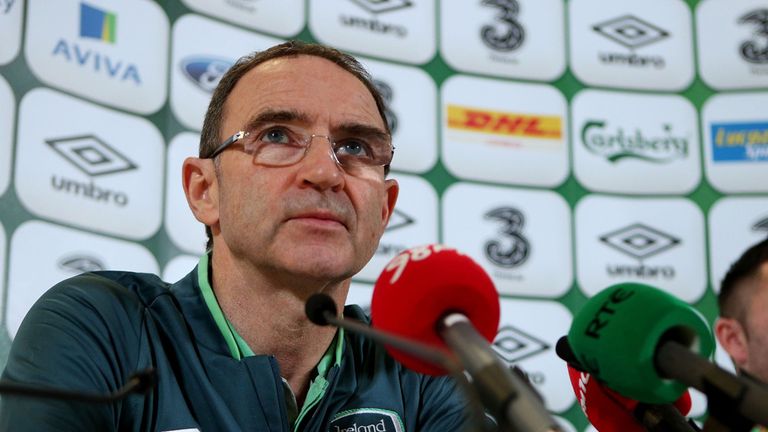 The Wigan winger sent a derogatory tweet about a Northern Irish newspaper over the weekend which was later deleted.
McClean, who was previously managed by O'Neill at Sunderland, was twice banned by the club from using the social media networking site.
O'Neill was already considering imposing new rules before the latest incident.
"I wasn't overly pleased," he said. "James seems to enjoy the Twittering and his performance merited one or two tweets from other people saying how we he had done, rather than James getting embroiled again.
"It all leads to the whole thing again about the tweeting. I think even before I arrived here, there was a matchday ban on tweeting - in fact, it might even have been a matchday minus-one or plus-one, as the case may be, or even a two-day ban.
"I am just experiencing these things again, so let me have a look. I don't want to be a guru over this social media and players. I think there just has to be a bit of responsibility.
"Sometimes I think the players don't realise, even after all this time - maybe they do, maybe that's my view - they might not realise that this is a public media and anything they say is just picked up."
O'Neill was asked if he had spoken to McClean about the matter, and while he acknowledged that he had, he defended the player to a degree.
"I have reminded James," said O'Neill, who stated that the Twitter row would not influence his team selection for Tuesday's friendly in Poland.
"But remember, it's a fairly lengthy time since I last mentioned it to him. There has been a lot of tweeting gone under the bridge since then."