Robbie Keane might need surgery to cure an Achilles problem
Robbie Keane fears he may need surgery to cure the Achilles problem which has denied him a starting role against Poland.
Last Updated: 18/11/13 9:42pm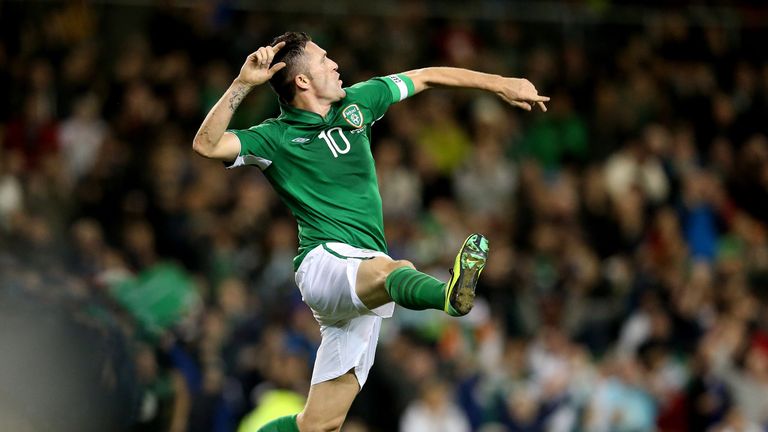 The 33-year-old Republic of Ireland skipper delayed a trip to the specialist before linking up with the squad and scored his 62nd senior international goal in Friday night's 3-0 victory over Latvia.
But Keane continues to be hampered by the niggling problem and will seek medical advice next week about whether he should go under the knife.
Asked if he needs an operation, the Los Angeles Galaxy striker said: "It is kind of looking like that, but I won't know for definite until Monday.
"But there is definitely something that will have to be done, and that is likely to be it."
New manager Martin O'Neill was delighted with Keane's determination to play for his country, but recognised the need to rest him against the Poles.
"Robbie won't start on Tuesday night. He's had an Achilles problem that's been chronic now for a while," said O'Neill, who hinted that John O'Shea could replace Keane as skipper.
"It's something that, now that he's going to get a little bit of a break with LA, he's going to get sorted out.
"My doctor said to me that if I wasn't going to start him in the game that perhaps he might stay (behind) and he might be able to get an appointment a week earlier - and a week, you know, for the amount of time that he's off, might have been important.
"I gave that some consideration, but deep down, I wanted Robbie to come and the moment he said 'I'm coming', I think that spoke volumes for him, it really did.
"I was really pleased that even if he had an opportunity to get something sorted out on Wednesday of this week, he was prepared to leave it to go travel.
"As captain of the side, it's great for him and from my point of view, it's great to hear."
Keane admitted he was always going to make himself available, despite his fitness concerns.
He said: "I wanted to come and always want to be involved. I have time off
after - it is not like I have a game on Saturday after this week.
"I will see the specialist and hopefully get it all sorted out."