Robbie Keane says Roy Keane will play a crucial role for Ireland
Roy Keane's humour will help lift Ireland out of the doldrums, Robbie Keane told Goals on Sunday.
Last Updated: 27/11/13 1:39pm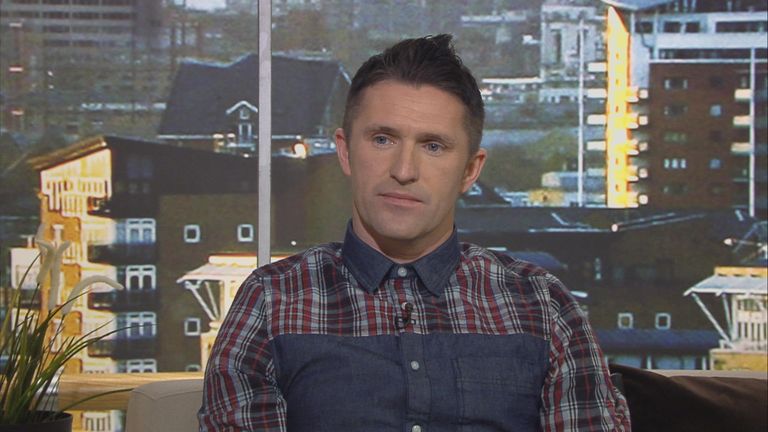 That's the view of the former Manchester United midfielder's near namesake Robbie Keane who told Goals on Sunday that he was delighted to see the 42-year-old appointed as new Ireland boss Martin O'Neill's assistant.
Roy Keane - who earned 67 international caps - had an infamous spat with then-Green Army manager Mick McCarthy at the 2002 World Cup and was promptly sent home from Japan and South Korea.
But Robbie Keane - Ireland's record goalscorer with 62 strikes in 131 games - says the ex-Ipswich and Sunderland boss will inspire his country's players as they look to bounce back from failing to make the 2014 World Cup under Giovanni Trapattoni.
"Roy has that aura but he also has a side to him that not many people talk about - being funny, witty and telling stories," said Keane, who made his Ireland debut in 1998 against the Czech Republic.
"I have been vocal about introducing ex-players into the coaching staff - like England have done with Gary Neville and Gareth Southgate - as that will only benefit Irish football.
"And to have two such big characters in the game in Roy and Martin come in has given the team and country a massive buzz as we have been on a massive downer over the last couple of years."
Proudest
Keane will turn 34 next year but says he has no plans to quit the international game and focus solely on LA Galaxy, where he won the MLS Cup in 2011 and 2012 whilst teaming with David Beckham.
However, the former Tottenham, Liverpool and Leeds hitman - who was joined on the Goals on Sunday sofa by onetime Wolves colleague Matt Murray - says America's top division does present him with a stern challenge.
"It is the proudest moment for any professional to put your nation's jersey on," added Keane. "Growing up in Dublin I always wanted to play for my country and that feeling hasn't changed.
"I never thought I'd have the opportunity to score that many goals or earn that many caps but while the travelling from LA is long I have been doing better for Ireland since I made the move.
"The level in the MLS is not up to the Premier League - though nothing really is - but it has the feel of when I was at Celtic when the rest of the teams are the same, so in that respect it is very tough.
"And it wasn't a hard choice whether to live in Birmingham or LA!"