International news: Martin O'Neill will not stop Roy Keane joining Celtic as manager
Republic of Ireland boss Martin O'Neill says he will not stand in Roy Keane's way should he want to join Celtic.
Last Updated: 02/06/14 5:45pm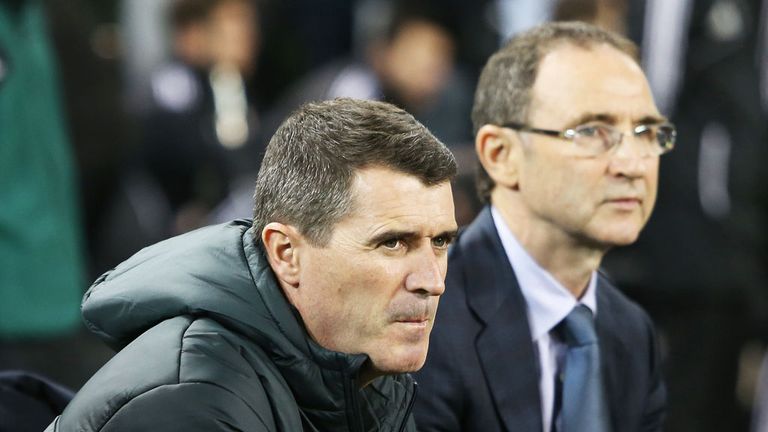 Former Manchester United captain Keane, who was installed along with O'Neill last November, has been linked with the vacant post at Parkhead after Neil Lennon resigned earlier this week.
Keane, 42, refused to be drawn on the subject himself on Thursday, insisting the club where he finished his career is a great one but he already has a job a do with the international side.
And O'Neill said: "Naturally, having brought him in, I'd be disappointed if it went through but I wouldn't really be standing in his way.
"If it's the case then I'd speak to him and I'd speak to [FAI chief executive] John Delaney as well - I think Roy mentioned that the other day - but it is honestly pure speculation at this minute.
"I have always said Roy Keane would make a good manager. I think the experiences he has had at Sunderland and Ipswich will stand him in good stead.
"He has this opportunity to come with me as my assistant here at this moment. I think this particular element is good for him. It gives him a chance to look at it and maybe work with somebody with a bit of experience like myself.
"But I have often said he will become a manager, there's no question about it."
Keane has not managed since he was sacked by Ipswich in 2011 - a torrid spell that followed three years at the helm at Sunderland.
O'Neill insists he is not concerned by the speculation at present but believes Keane deserves another shot at being a club manager.
The 62-year-old said: "It doesn't bother me too much at all - or at least I am trying to show that.
"When I took him on in the first place, I can't say I had really thought that particular element of it through. It wasn't top of list at the time because he wasn't being mentioned for jobs, but such is the profile of the man that really I probably should have expected it.
"He was linked also as assistant to Louis Van Gaal at Manchester United. He is being linked everywhere now and I will deal with that when it comes, if it comes."
Watch the Republic of Ireland take on Turkey in a friendly, live on Sky Sports 1 on Sunday, with coverage starting at 5.30pm.