Republic of Ireland boss Martin O'Neill backs Derby trio to overcome disappointment
Republic of Ireland boss Martin O'Neill wants his Derby trio to put their Championship play-off nightmare behind them.
Last Updated: 27/05/14 3:26pm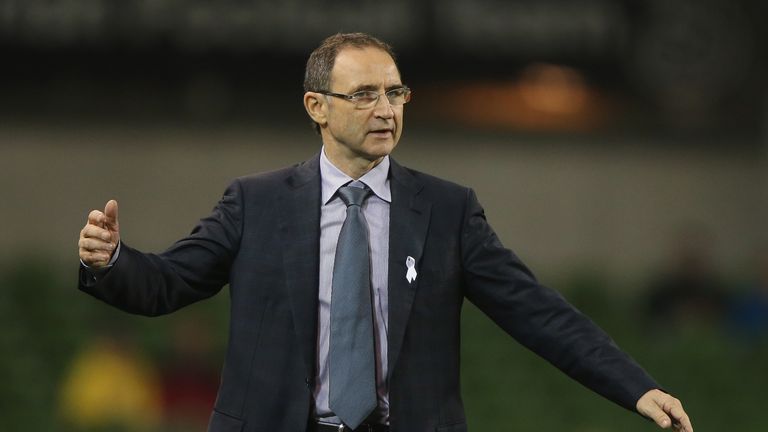 Richard Keogh, Jeff Hendrick and Conor Sammon joined up with their Irish team-mates on Monday evening just 48 hours after their Premier League hopes were ended after they were beaten by QPR at Wembley.
O'Neill said: "They came in last night and we did have a chat with all three. Richard in particular, obviously, is devastated because he feels as if his mistake at the end led to Queens Park Rangers scoring the goal.
"Sometimes you have to remind him - I know it's desperately disappointing at this minute, but with the sort of season that he and the Derby team have had.
"That will be no consolation whatsoever to him at the moment, but in time you are hoping that time will be a bit of a healer.
"They came in last night and of course they are very, very disappointed. But the next couple of days, hopefully - and weather like this here - might start to improve his demeanour."
All three trained with the Irish team on Tuesday morning, and midfielder Hendrick admitted that pulling on his boots once again had proved cathartic.
He said: "When you have a defeat in football, you want to get out and play another game, and coming away here will take our minds off what happened on Saturday.
"It's good for us just to get out and play and be back involved with the squad."
Aston Villa defender Ciaran Clark was the only player to miss training as he nursed a back problem, but he is expected to be fit to face Italy on Saturday.
Rob Elliot, and Stoke trio Marc Wilson, Glenn Whelan and Jon Walters have left the camp to attend weddings - in Elliot's case, his own - while 19-year-old Manchester City goalkeeper Ian Lawlor has also been drafted in.
QPR striker Kevin Doyle will meet up on Thursday and Scunthorpe keeper Joe Murphy will join the party briefly in London the following day.
O'Neill confirmed that decisions will be taken over the continued presence of long-time associates Steve Walford and Steve Guppy, who have been added to his staff for the current get-together, after the summer.
He said: "Steve Walford has been with me for quite some considerable time and Steve Guppy is an up-and-coming coach, so we will see what happens after the summer break."