Kevin Doyle feels Robbie Keane's Republic of Ireland record will never be beaten
Kevin Doyle believes it will be hard for anyone to beat Robbie Keane's international goalscoring record.
Last Updated: 02/06/14 5:26pm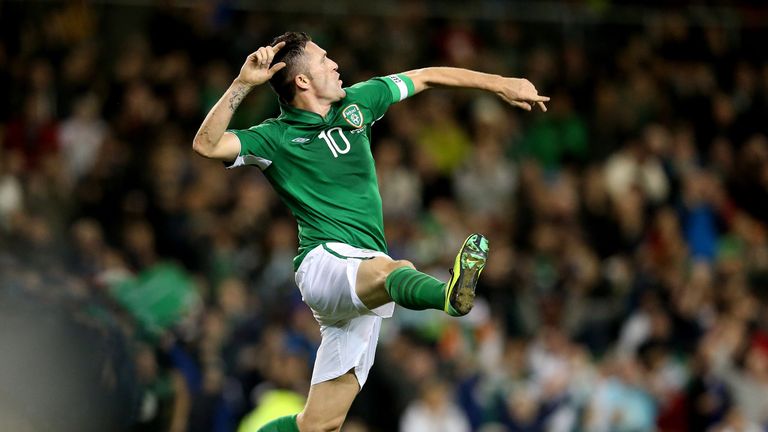 Doyle will have a chance to improve his own tally of 12 goals in 57 appearances when Ireland take on Italy at Craven Cottage on Saturday.
LA Galaxy striker Keane - who has scored 62 times in 131 caps, 16 more than the rest of the squad combined - will not play in that game and will instead join up with his Irish team-mates when they travel to America next week.
Only Miroslav Klose and Didier Drogba have better international goalscoring records in the modern era, while Keane rubs shoulders historically with legends of the sport such as Ferenc Puskas and Pele.
And Doyle said: "No-one in the world is really going to match Robbie's record - or very, very few ever - so you are comparing us against someone who has a record that is incomparable to 99 per cent of strikers in the world.
"Even the best strikers in the world don't have his goalscoring record at international level, so realistically we are not going to match that.
"But we can bring other things to the team and other things to the pitch that maybe he can't. But his record is as good as there is ever going to be, really.
"I can't see anyone ever beating it coming after us. You never say never, but for someone to beat that record, I think, is going to be some feat.
"For us, it's just to bring whatever we have to the table as much as we can."
Doyle, who is the second-highest scorer after Keane in Martin O'Neill's squad, enjoyed a return to club form this season as he played a key part in QPR's return to the Premier League through the play-offs.
He made the switch to Loftus Road from Wolves on a loan deal in January but admits he does not know where his future now lies.
Asked if he had been offered anything by Rangers boss Harry Redknapp, the 30-year-old, who has a year remaining on his contract at Molineux, said: "No, there's nothing, nothing said, nothing guaranteed. It was basically just, 'Well done, we'll see in the summer'. Who knows?
"I did enjoy it a lot. I'm not the only one, there are a lot of players out of contract who might not be back or weren't sure whether they would be back next season who were playing on Saturday, so a lot of us were in a similar situation.
"I really enjoyed it, so whether I'm back there or not, it (securing promotion) was a good feeling."